I've been wanting to make biscotti for a while now, probably a couple years. It just always seemed so laborious, you know? There seemed to be a ton of steps. Turns out they're easy steps- but steps none the less. On the up side of things this recipe can be vegan very easy if you need it to be. Use non-dairy milk (which I always do anyway) and choose a vegan chocolate or skip it. I don't recommend skipping the chocolate though because the best part is the melty chocolate once you dip it in your hot coffee. Yum.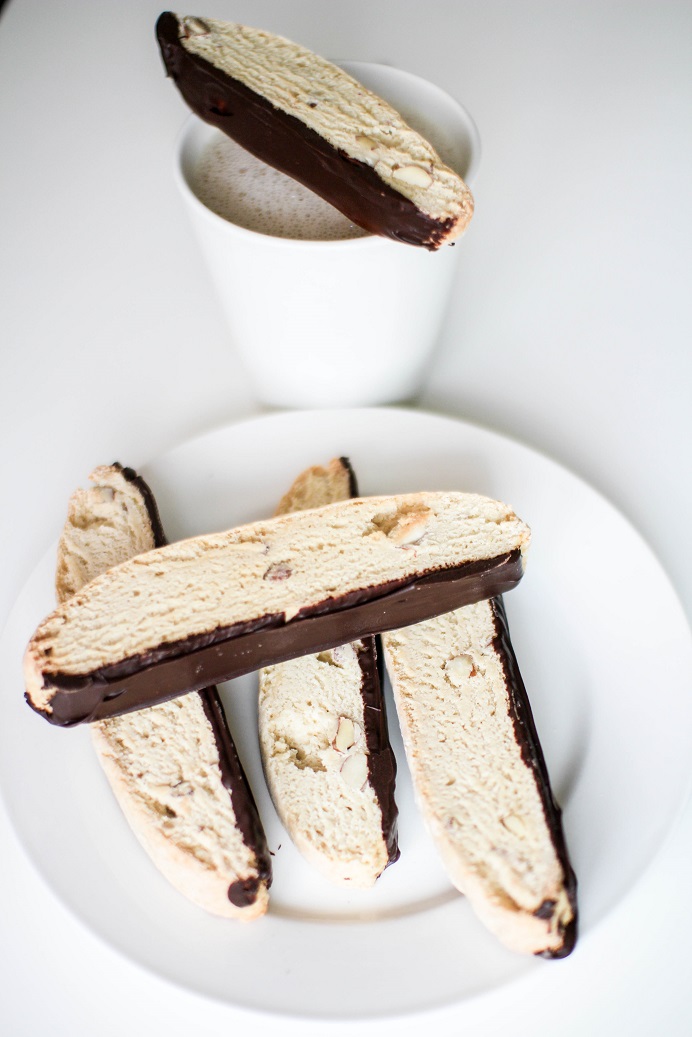 I started watching all of Gilmore Girls… again. They are always sipping coffee which makes me want coffee. So I've been drinking more coffee. Lorelai had some biscotti that of course Sooki made, so naturally I also had to have some biscotti. The recipe is very close to my basic scone recipe but a little dryer, less sweet. Man those scones, they're good. For another day though.
Chocolate & Almond Biscotti
Ingredients
2 cups all purpose flour
½ cup sugar
¾ cup soy milk or preferred milk
2 teaspoons baking powder
½ tsp salt
¼ cup chopped almond pieces
2 teaspoons vanilla OR almond extract
¼ cup semi sweet chocolate chips or vegan chocolate
(more flour or milk to form dough correctly)
Instructions
Preheat oven to 350 degrees.
Mix together sugar, milk, and extract.
Combine the dry ingredients (except for almonds) and add to the wet mixture.
At this point add almonds and any additional liquid, or flour to make a nice dough ball.
I like it a BIT on the dryer side.
Lightly sprinkle counter or parchment with some flour and kneed dough to form a nice cohesive hunk of delicious dough.
Shape it into a rectangle and then roll it out into a long log shape.
Bake on parchment for 25-30 minutes.
Remove and cool a bit so you can cut it.
Place the log on to a cutting board and carefully cut it into whatever thickness you will want your biscotti.
Place them cut side down back onto parchment.
Bake 10-15 more minutes (depending on how browned you like), then flip and repeat.
Allow to cool a bit.
Melt chocolate in microwave in 10 second intervals stirring between. Don't over cook.
Scoop chocolate with a spoon and run the bottom of the biscotti through it, lay it on its side on parchment to let chocolate set.
Serve with hot coffee or cocoa!