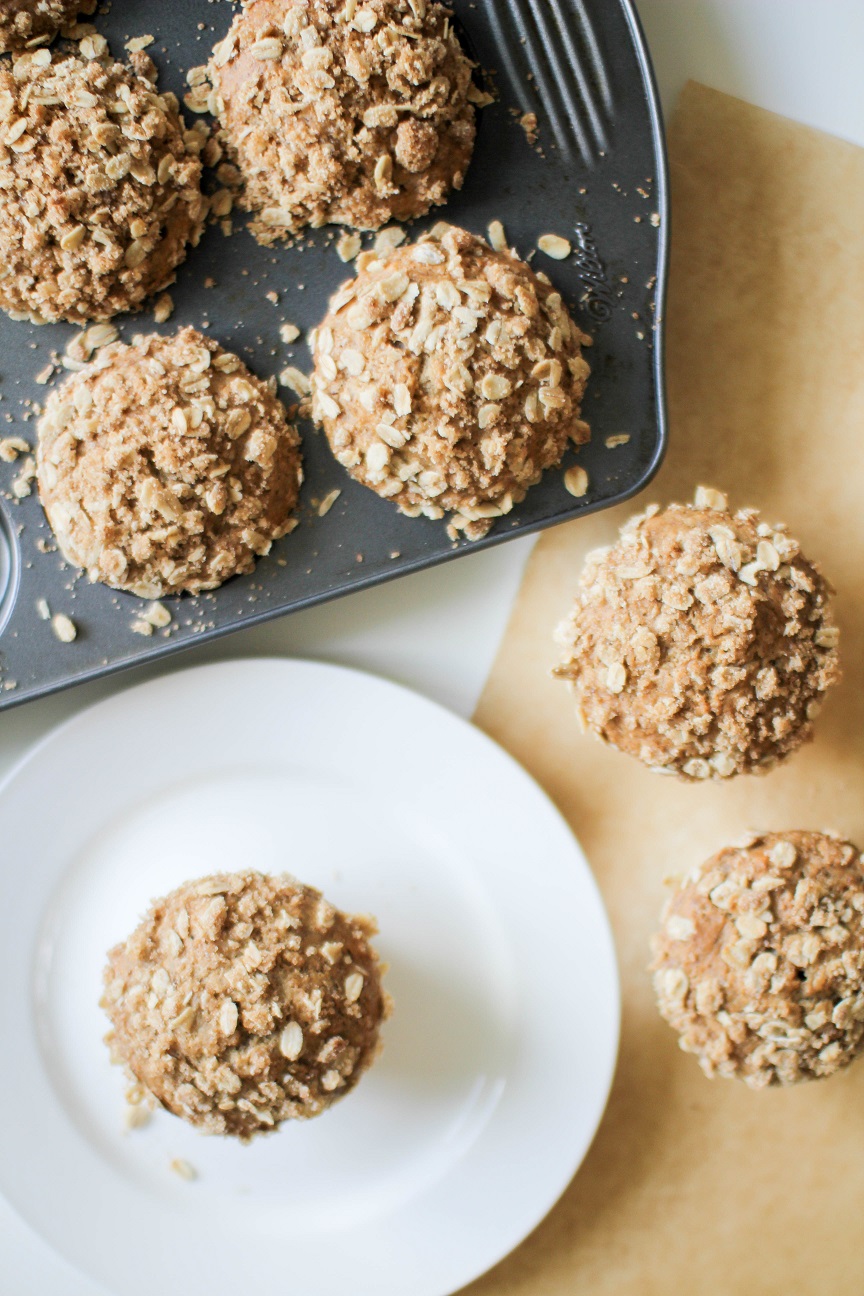 Is it my eyes or am I starting to see pumpkin spice everywhere already? I feel like I am. And I'm hearing people talk about fall. I checked google. Google says it isn't fall until the end of the month. It's not fall yet. I'm trying to hold my horses on all the pumpkin spice stuff.
Originally I thought that I was going to be giving my Pumpkin Bran Flax Muffins a plant-based makeover by removing the eggs and maybe dress them up with a fun little topping. But google said it wasn't time yet, alas we are waiting.
I decided to hold off on the Pumpkin Bran make-over and go the banana route. I had some bananas sitting on the counter. Bananas are a hit or miss in our house. I'll buy them and they will disappear in a few days or I'll buy them and they will sit and get brown. Either way it's not a problem because I love having frozen ripe bananas. They are the best in smoothies because they give it this creamy naughty milkshake feel, like this peanut butter smoothie, still my favorite milksha… I mean smoothie! Oh, and they're also so good blended with some coco powder in a smoothie. I need to swap the coco for cacoa powder. Does anyone have any brand suggestions?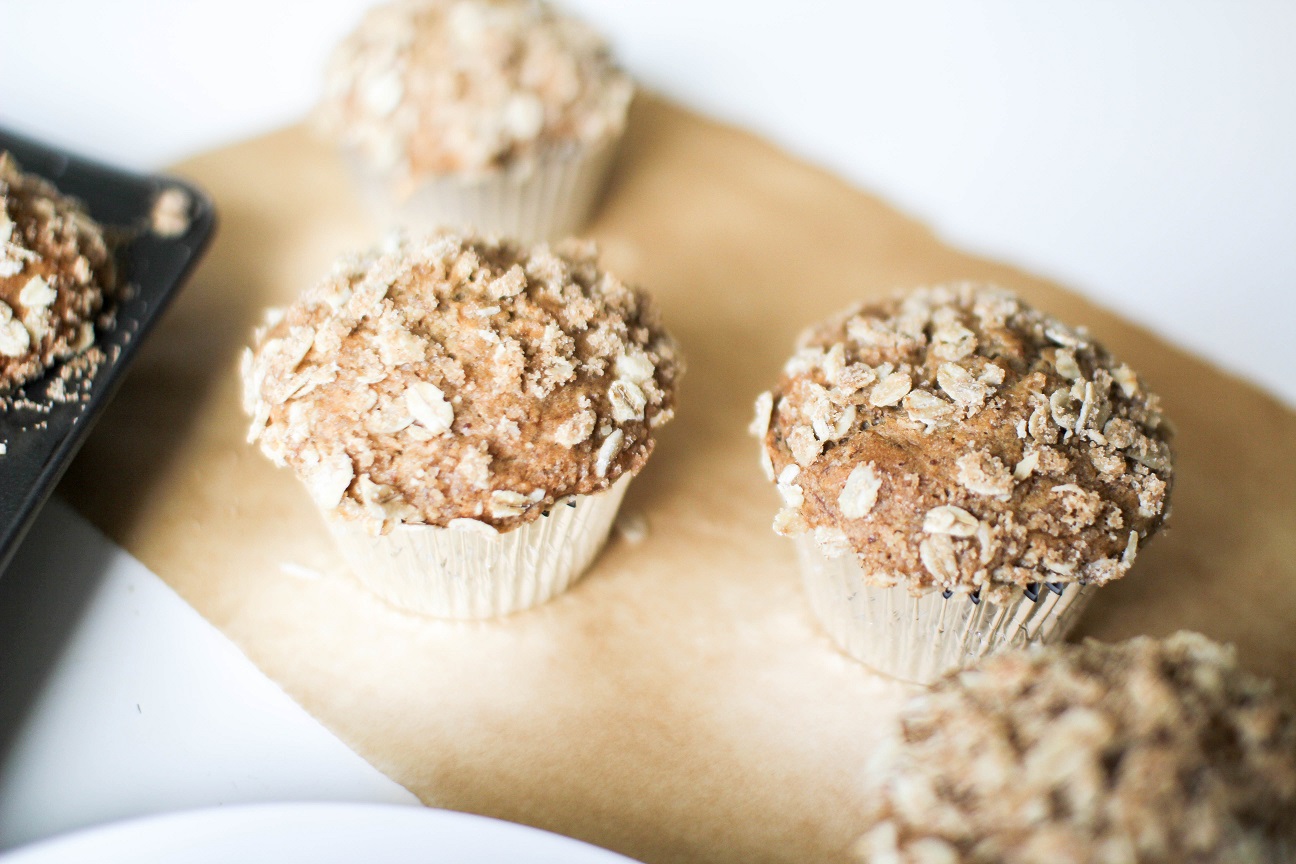 These bananas were fortunate enough to make it into muffins this week. The batter made the perfect amount, 12. I love when there is just enough of things. You know, like when you grab just the right amount of hangers no more or less than you needed- it's the small things in life, right!? Well anyway my muffin tin has 12 muffin spaces so it was perfect.
I think I'm going to ease my way into this fall because frankly I am not ready for it because then the winter comes and stays for too long. When we lived in Florida fall was a welcomed season. It really just meant that it was less hot instead of sweltering hot. And on a really lucky day- not humid. This was our first winter here. From what I heard it wasn't that bad. It just lasted 1-2 months too long for me. I spent a lot of time hoping for an above 40 day just to take a walk down to Hoboken.

Banana-Nut muffins with Oat topping
Ingredients
For the muffin mixture:
2 cups of AP flour
2 tsp baking powder
1 tsp baking soda
¼ tsp salt
¼ tsp Pumpkin spice mix
¼ tsp Cinnamon
½ cup soy milk (or preferred milk)
2 TBS ground flax seed
⅓ cup turbinado sugar or regular
¼ cup canola oil
4 mashed bananas
1 TBS vanilla
½ cup shelled walnuts
For the topping:
¼ c AP flour
½ rolled oats
¼ cup brown sugar
2 ½ TBS canola oil
½ tsp vanilla
Instructions
Preheat your oven to 350, and line your muffin tin.
To make the muffin mixture add the ground flaxseed to the milk, stir, let it gel while you prepare the other ingredients.
Sift together the first 6 ingredients (flour-cinnamon).
Cream together the flax/milk mixture with sugar, oil, vanilla, and mashed bananas until smooth.
Gradually add the dry ingredients to the wet combining well.
Fold in the walnuts.
Using a ⅓ cup scoop or measuring device, fill the lined muffin tin.
To prepare the Topping mix together all ingredients just until the flour seems wet.
Top the muffins with the topping.
Cook at 350 for about 30 minutes or until a toothpick comes out clean when inserted.
Notes
*you must let them cool completely before eating otherwise when you peel the paper you will lose half of the muffin to the paper and the canola oil flavor needs to mellow a bit.