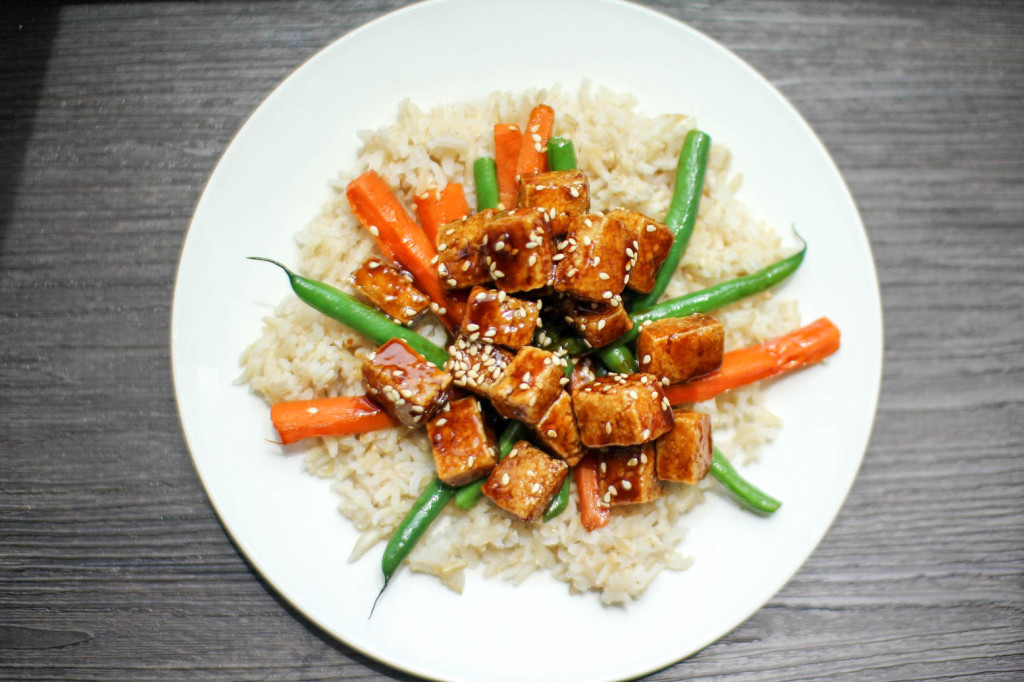 Crispy Sesame Tofu! Wait don't leave! You might have the same thoughts about tofu as I do. Let me explain my Tofu thought process. Tofu… No. Crispy tofu, mmmmaybe. Crispy Tofu with a sesame glaze? Yep!!! I mean, this tofu is so good I forgot I was eating tofu. It was nothing like the tofus I have made or had in the past. You have to at least try it even if you are a meat eater.
The left overs were still pretty good, not as crispy as before, but good enough for my meat-loving, vegan-food-hating husband to ask me to heat some of the left overs up for him… I mean, come on! You gotta try it! This sauce is so good though, I ended up also making my husband a chicken version. And it worked great as meal preps
, as did the chicken version.
Tofu is so great! It's a whole protein, has no animal fat, is low cal, and a good source of calcium believe it or not.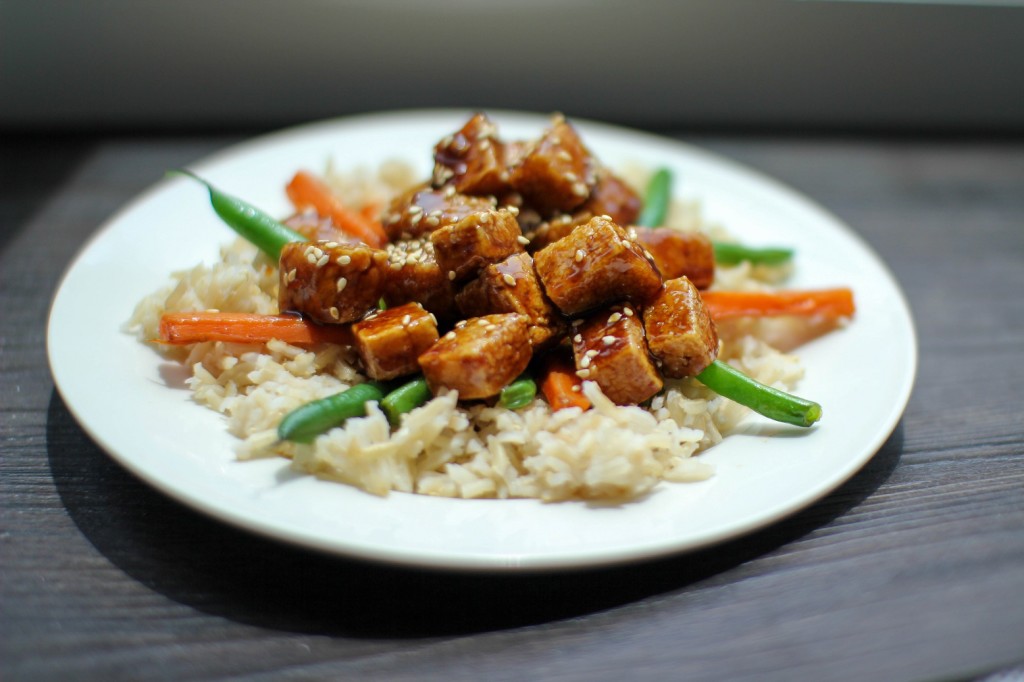 Now if you want this tofu to turn out right, and by right I mean crispy, you've got to do a little prep. You have to drain the tofu well. Like really well. You can do this a few ways, usually people will just set something heavy on top with towels for a few hours to press out the liquid. I tried that and I'm just too impatient. I eventually just cut it into slices and pressed the liquid out of each slice. So much quicker! and look, look how crispy!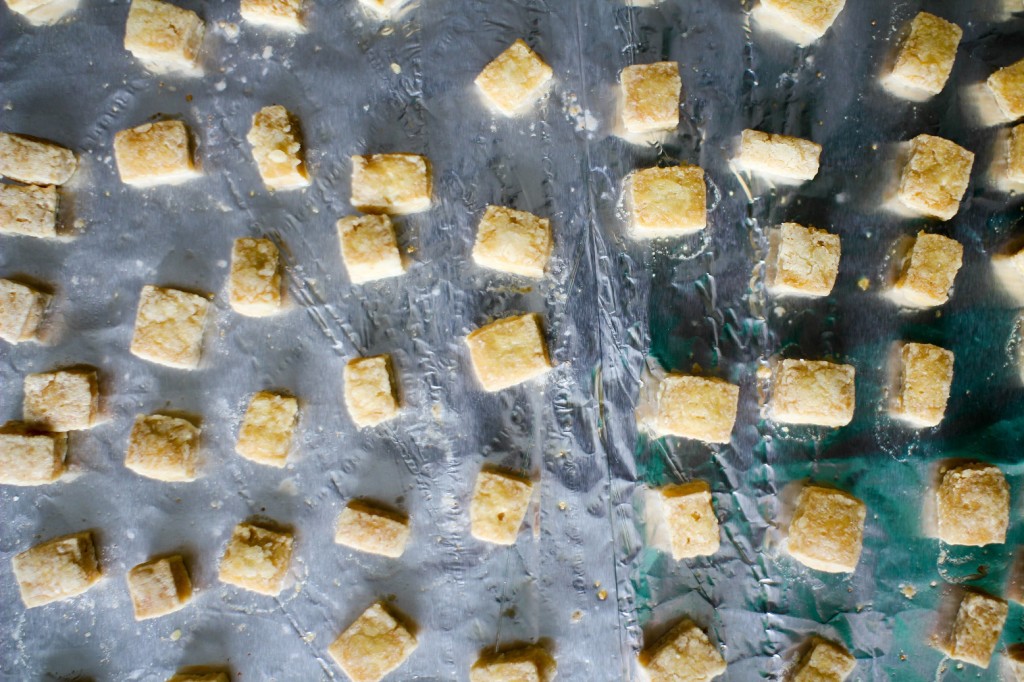 Now this recipe does take a while, but only because you have to wait for the liquid to drain (or you can be like me and force it out), and it bakes for 45 minutes. So find something fun to do in between. Then once it is almost done you can prep the rest of your ingredients, it comes together quickly at the end.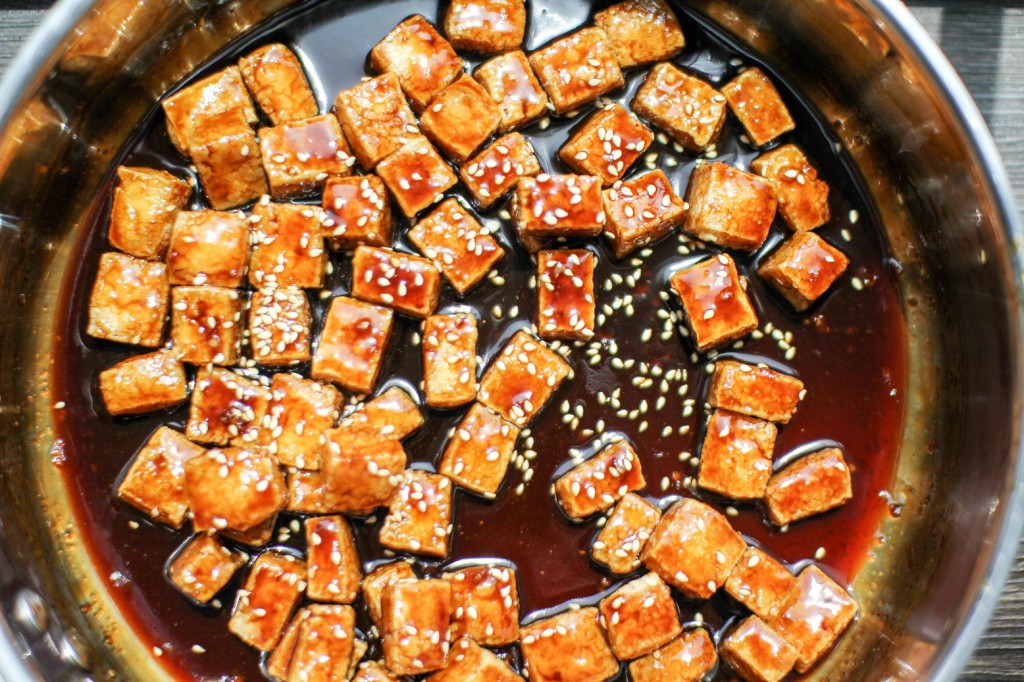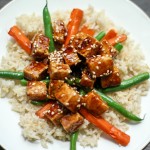 Crunchy Sesame Tofu
2015-06-23 15:55:40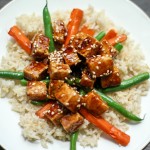 Crispy Delicious Tofu Stirfry
Ingredients
Extra Firm Tofu
1 cup brown rice (uncooked)
3 whole carrots
4 handfuls green beans
Corn starch (for coating and to thicken sauce)
Garlic powder
Ginger Powder (optional)
0.25-0.5 cup low sodium soy sauce
4-5 TBS hoisin sauce
2 TBS brown sugar
1 tsp Sesame oil
0.5 thumb size fresh ginger, grated (optional)
1 Clove fresh garlic minced
Toasted sesame seeds
Instructions
Take Tofu out of package and drain water. You can use a press method by wrapping it in a kitchen towel or paper towels and leave something heavy on top. OR cut it into thinner slices and press the liquid out of each slice individually. Drain it the best you can.
Preheat oven to 400 degrees.
Cut tofu into 0.25-0.5 inch thick pieces according to your preference.
Lightly coat the tofu with cornstarch, garlic powder, and ginger; this is what is going to make it crispy. I find if you press the tofu into the corn starch it will almost absorb it.
Lay coated tofu out on a sprayed and lined baking pan. Lightly spray tops with cooking spray.
Bake for a total for 45 minutes, flip tofu half way through baking.
Put your brown rice on to cook.
At the half way point start to prep your veg and sauce.
Cut carrots in half lengthwise then into small spheres, cut ends of green beans.
Steam carrots and green beans. I use a microwave steam basket for this but you can put them in a pan with a little water and lid then drain the water when done.
To make the sauce add soy sauce, hoisin sauce, sesame oil, brown sugar, ginger, and garlic to a pan. Mix to combine and heat over LOW heat.
Add tsp of corn starch to enough cold water to dissolve. Once dissolved stir into sauce heat another minute.
Spoon 3-4 TBS of sauce over the vegetables to coat.
Add the crispy tofu to the sauce and cover with toasted sesame seeds.
Serve over rice.
Recipe Righter https://www.reciperighter.com/