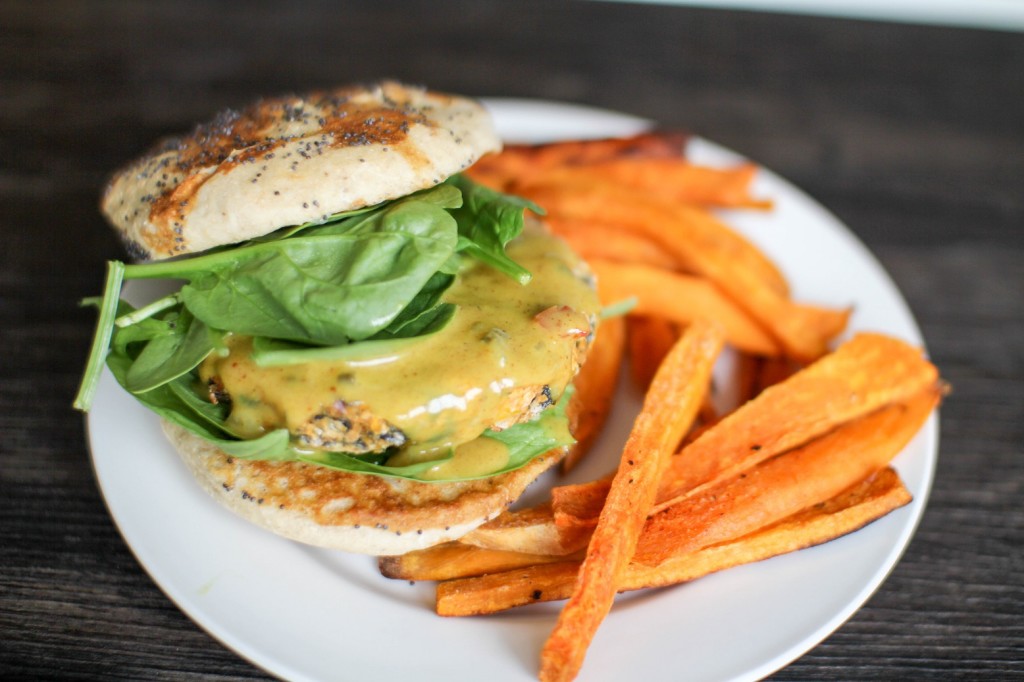 These Garden Burgers don't fall apart! If you've experimented in making veggie burgers, bean burgers, or any burger that is not made of meat you have probably noticed they don't like to stay together. They tend to fall apart or crumble. I have done some experimenting of my own and I'll teach you my tricks! It takes a little TLC but these puppies don't fall apart! You can use this method for any of your veggie burger recipes. I actually used a similar method for these Healthy Tuna Cakes.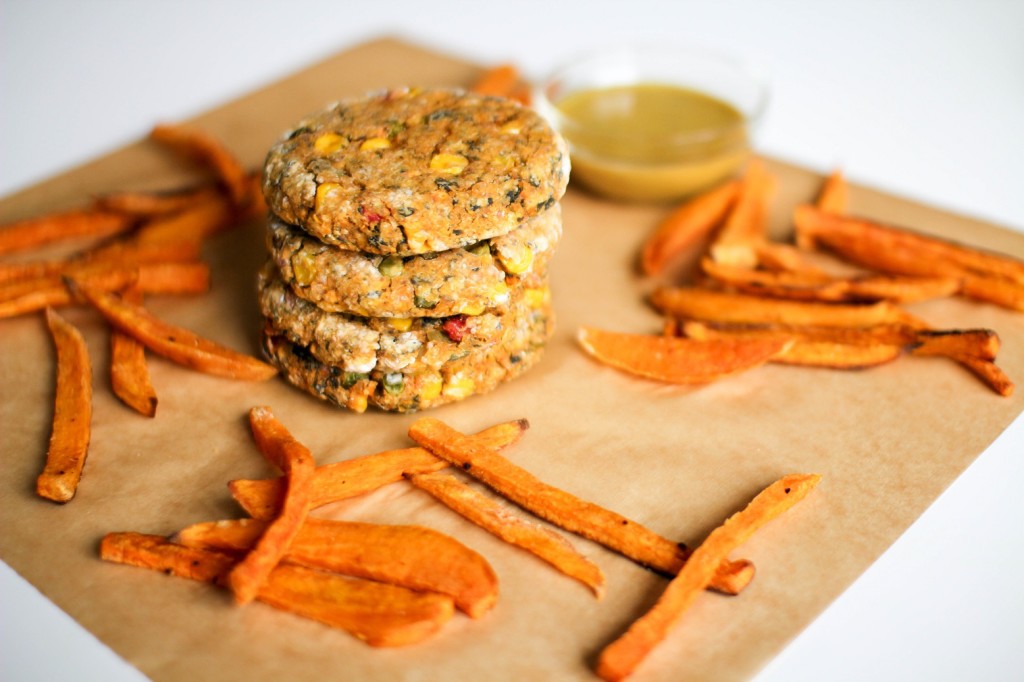 See look I'm holding it and it's not crumbling or falling apart. Nice sturdy patties, they don't fall apart! Hallelujah! For another vegan veggie burger that is a little faster and doesn't fall apart check out these Black Bean and Couscous Burgers.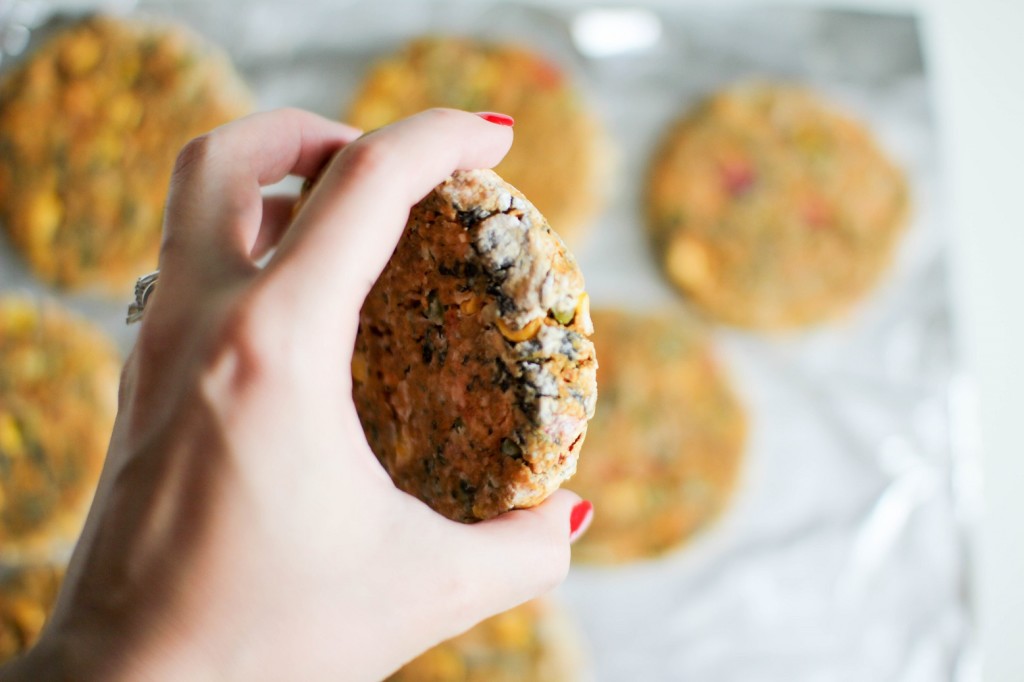 I wanted to be able to see all the veggies in the patties after they were cooked so I opted to use white potatoes and garbonzo beans for the base. Look at all the fun colors.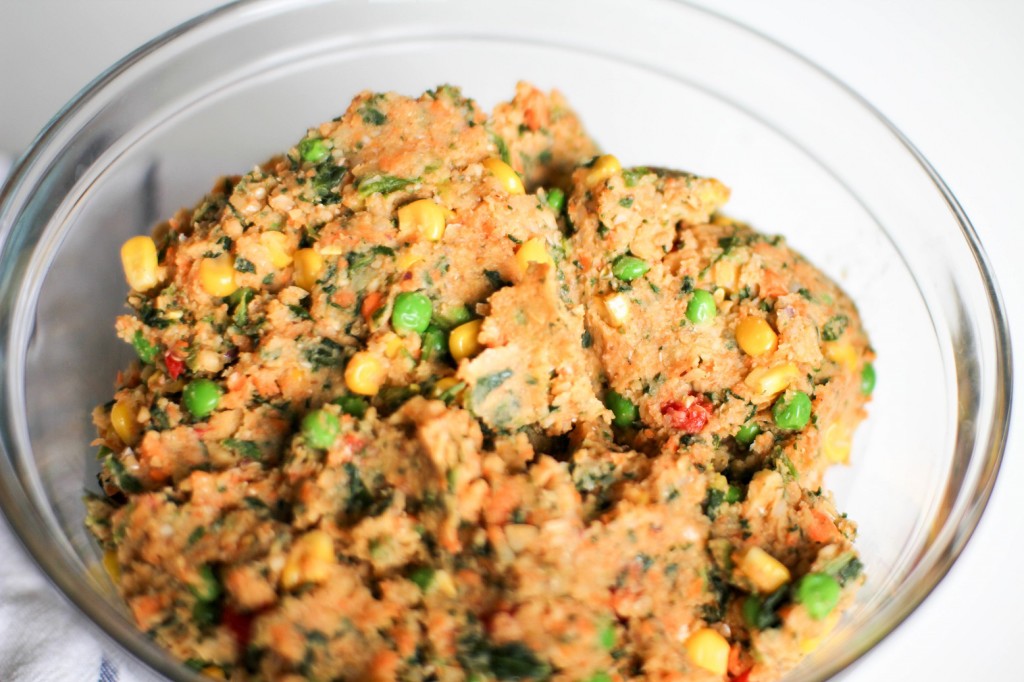 Real burgers are crusty on the outside and juicy on the inside. It's hard to accomplish this with veggie burgers because if they are juicy on the inside, the outside just steams and stays soft and falls apart on you. If you make it crunchy on the outside the inside could get dry. What a dilemma! I decided I would make a "Burger Sauce," to give it back some juiciness. Problem solved.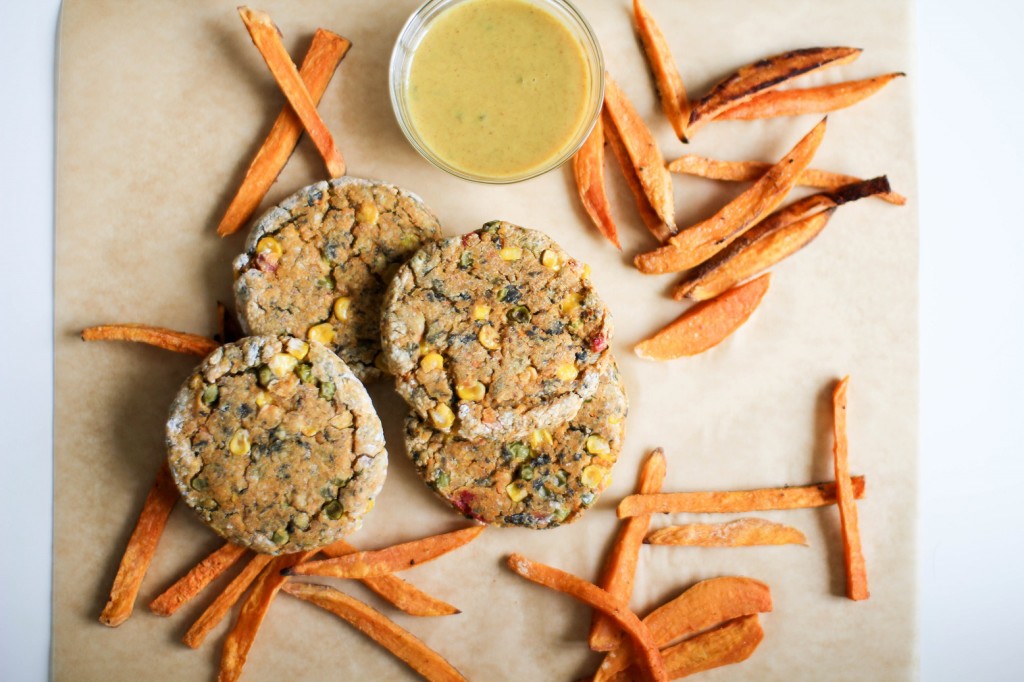 The burger sauce is not technically vegan, so if you are truly vegan and don't like honey skip the sauce or use something else to sweeten it a bit. But if you aren't a strict vegan, it's delicious! It's made from spicy mustard, honey, has a sweet tangy flavor from sweet relish (pickles are a classic burger staple), and is thin and runny and deliciously messy. Just as a proper burger should.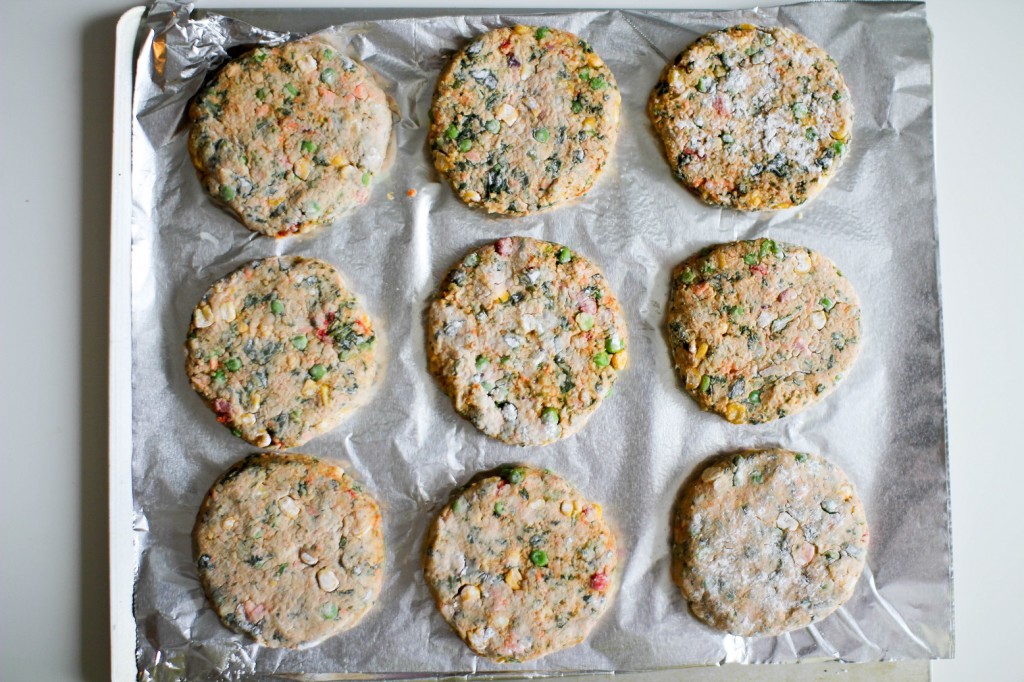 We had left overs of course because this mix made me 11 full patties. To reheat I recommend turning a non-stick pan to med-high. Then zap the burger in the microwave 20-30 seconds to heat the inside through then finish it by letting the outsides get crispy again in the hot pan. OR You could reheat them in the oven, flipping to let each side get crispy again.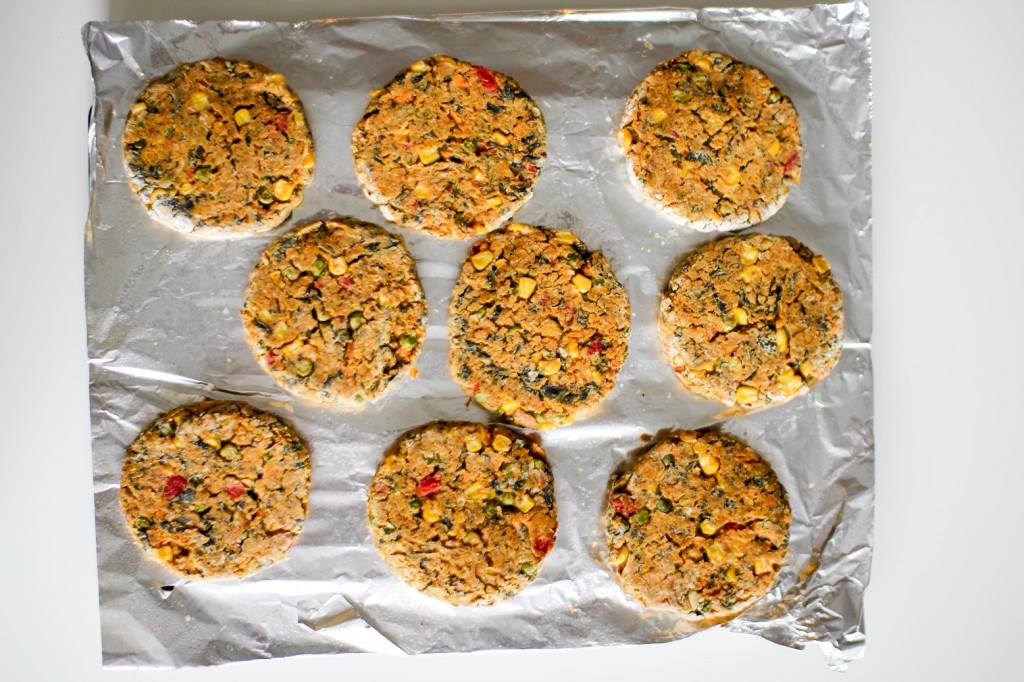 They made good lunch leftovers. I just assembled them with some spinach and buns and left the sauce off. Cut them in half and put a toothpick through each half. Packed some burger sauce on the side and added a veggie side.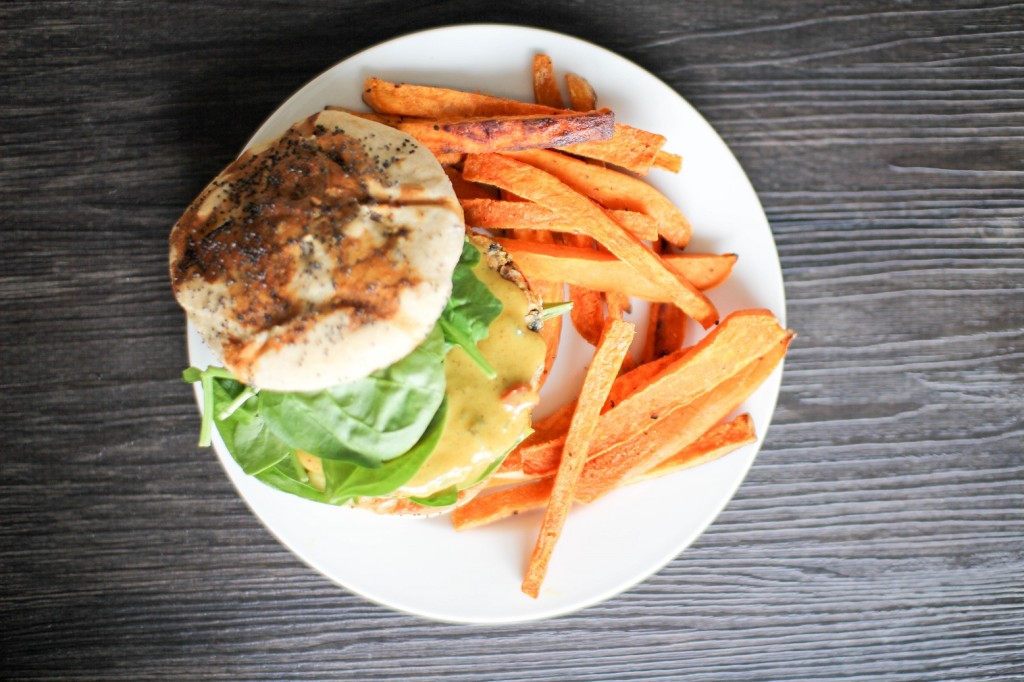 Garden Burgers with Burger Sauce
Ingredients
For the Garden Burger:
2 cans garbonzo, drained and rinsed
2 small potatoes
½ bag frozen spinach, defrosted and drained
1 cup frozen green peas
1 cup frozen sweet corn
3 carrots peeled
5 garlic cloves
1 small red onion
1 jarred roasted red pepper, chopped
Juice of 2 lemons
1 flax egg (1 TBS ground flax + 3 TBS warm water)
1 TBS Smoked paprika
1.5 tsp Cumin
1.5 tsp Dried dill
¼ cup corn starch
4 TBS of corn starch for dusting
4 TBS flour for dusting
Cayenne pepper to taste
Lemon pepper to taste
Salt to taste
For the Sauce:
¼ cup spicy mustard
1.5 TBS honey (or .5 TBS Agave)
1 TBS Sweet relish
1-2 TBS Soy milk (whatever milk you prefer)
Instructions
Prepare flax egg by combining 1 TBS ground flaxseed with 3 TBS warm water and set aside.
Prepare potatoes by washing, pricking with a fork, wrap in paper towel and microwave ~4 minutes.
Remove potatoes, allow to cool, and remove the skin.
Process them in food processor and add to a large mixing bowl.
Add drained and rinsed garbonzo beans, peeled carrots, onion, garlic, and juice of 2 lemons to the food processor.
Process and scrape sides until mostly smooth and add it to the potatoes.
Defrost spinach and peas in the microwave- squeeze out extra liquid from spinach.
Chop roasted red pepper.
Now combine all ingredients and spices in a large mixing bowl, hands are the best tool for this.
Check mixture for seasoning and adjust to your preference.
Right before forming dough add ¼ cup corn starch and combine. Don't do this if you aren't ready to form the patties yet.
Line baking sheets with aluminum foil and spray with cooking spray.
Add corn starch and flour to a plate for dusting, this is what will make the crust and keep your patties together.
Measure out veggie mixture in ½ cup measuring device.
Compact it with your hands and form a patty.
Lay the patty in the cornstarch/flour mixture and flip it to get it on both sides.
Pick it up and continue to form the patty, the cornstarch flour mixture will start to absorb into the patty a bit.
Place on baking sheet and spray the tops with some cooking spray.
Once all are ready place in a 450 degree oven, cook on both sides for 20 minutes each, 40 total.
To really crisp them up turn on your broiler after the 40 minutes, flip the patties, and broil both sides for another 2 minutes to get them really crusty. Keep in mind the side of the patty in contact with the pan is going to steam more than crisp because of the water from the veggies.
Once they are out of the oven pull the foil and patties off the pan and onto a cooling rack so the bottom doesn't steam and flip them once again.
Serve on buns with burger sauces and your favorite fixing.
To make the sauce combine all ingredients and mix until smooth.
Adjust ingredient amounts based on texture and flavor preferences.