Important meeting, big test? You need brain food and eggs are just that. Eggs are considered brain food because they contain choline, a vitamin like nutrient that affects brain development and memory.
1 egg
1 TBS vinegar
2 inches water for poaching
¼ cup frozen spinach
5 cherry tomatoes, sliced
1 clove garlic, minced
Salt/pepper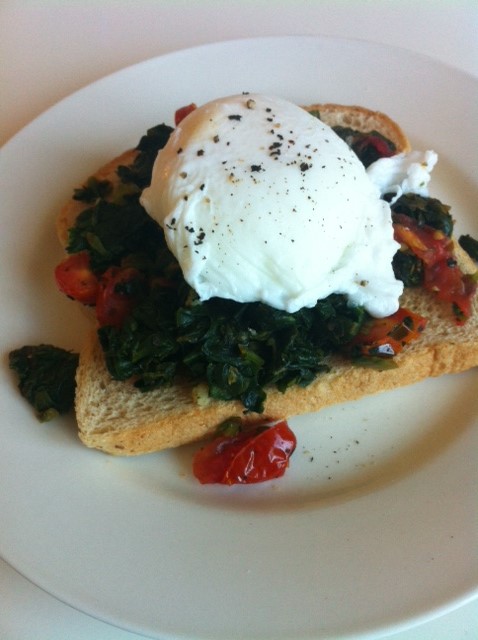 In barely boiling water, add salt (changes the boiling temp), add vinegar (helps egg stay together), swirl the water, add your egg to the center of the swirl; boil for 3 minutes. After 2 minutes, unstick the egg from the bottom very gently if needed. Remove the egg with a slotted spoon and place the spoon on a papertowl to soak up some of the water.
I wouldn't do more than 4 eggs at a time. I have only done 3 at a time so far. I also like to keep the egg moving to reduce the chances of the eggs sticking to the bottom. I just continue to gently swirl the water.
Sauté spinach and tomatoes until warm, add minced garlic cook 1-2 more minutes.
Top toast if desired with veggie mixture, add poached egg to top- salt and pepper to taste. Enjoy.