This black bean and couscous burger is just one of those recipes that I threw together with ingredients we had around when we needed lunch quickly. My husband is quoted saying… "This tastes like a regular burger." I speculate he thought this because the color looks like a burger, the smoky paprika gives it a grilled flavor almost, the outer crispy texture, and of course the burger sauce. I also use this with my Garden Burgers. It's a must have burger condiment people!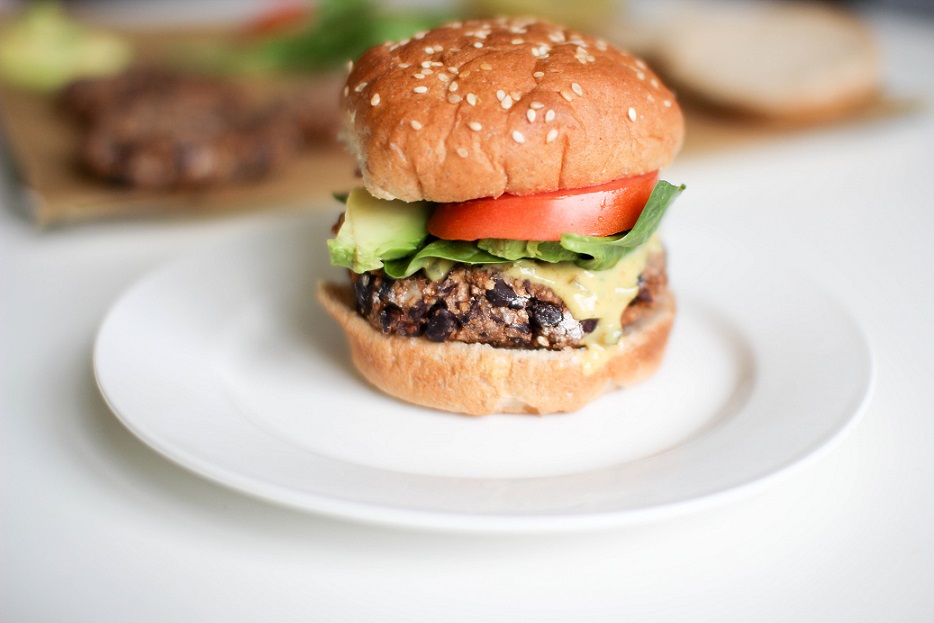 I have been throwing together bean burgers a lot recently actually. Just the other night I was desperate to throw something together for dinner. I made yet another bean burger that I was worried my husband wouldn't like. His words were, "This tastes just like a meatball sub" (I topped it with marinara sauce). Then we proceeded to say "meat bwalls" with a Jersey accent for the rest of the night. Real mature, right! I think I'll remake said recipe into bean balls and serve it like a meatball sub. I'll share it with you when I do.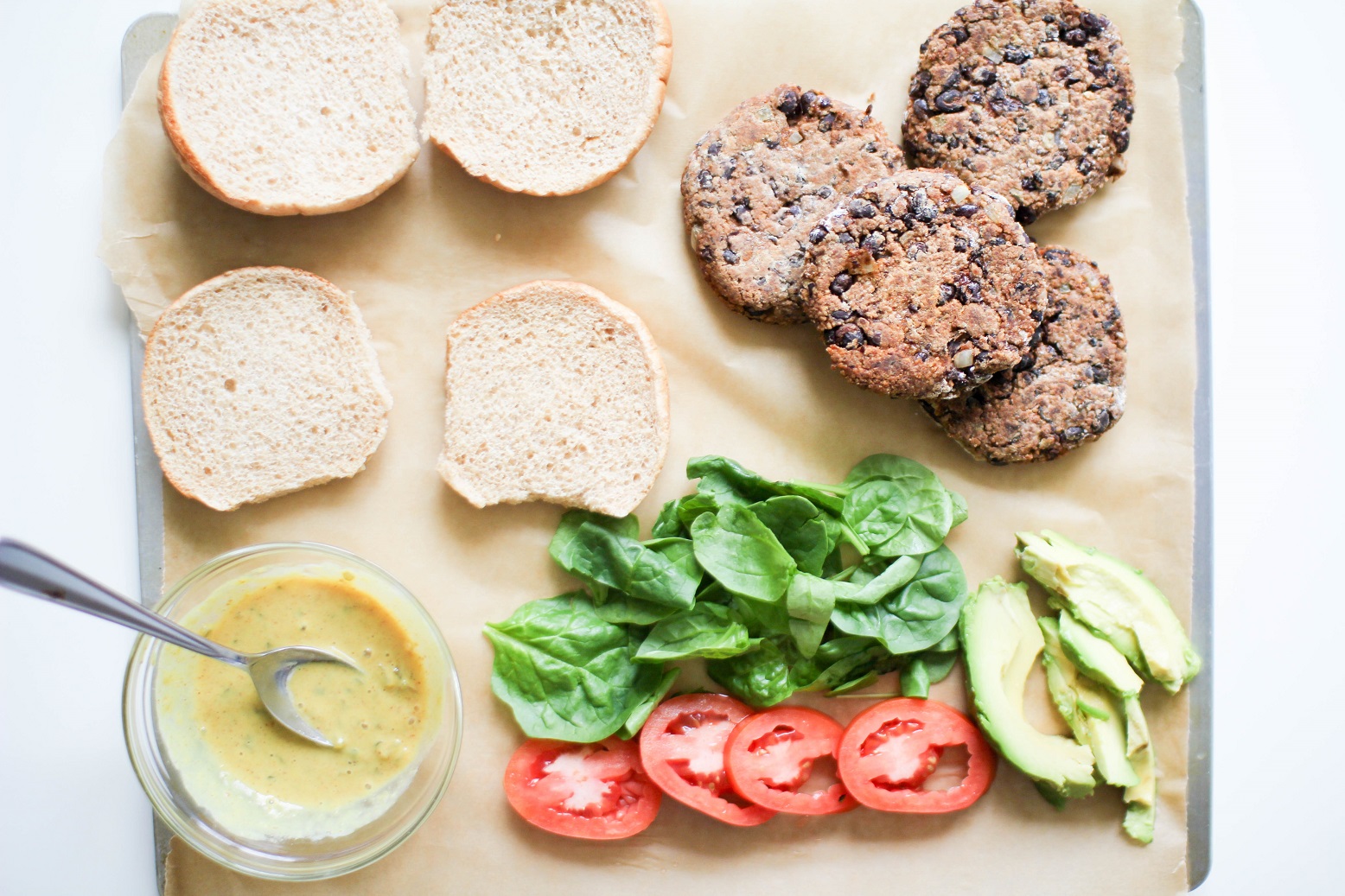 But back to this recipe. I bet you have everything on hand for this don't ya? I try to keep couscous in the house just because it only takes 5 minutes after the water is boiled. It's a great quick whole grain option. Love it. I always keep onions. And of course always lots and lots of different beans. The rest is spices.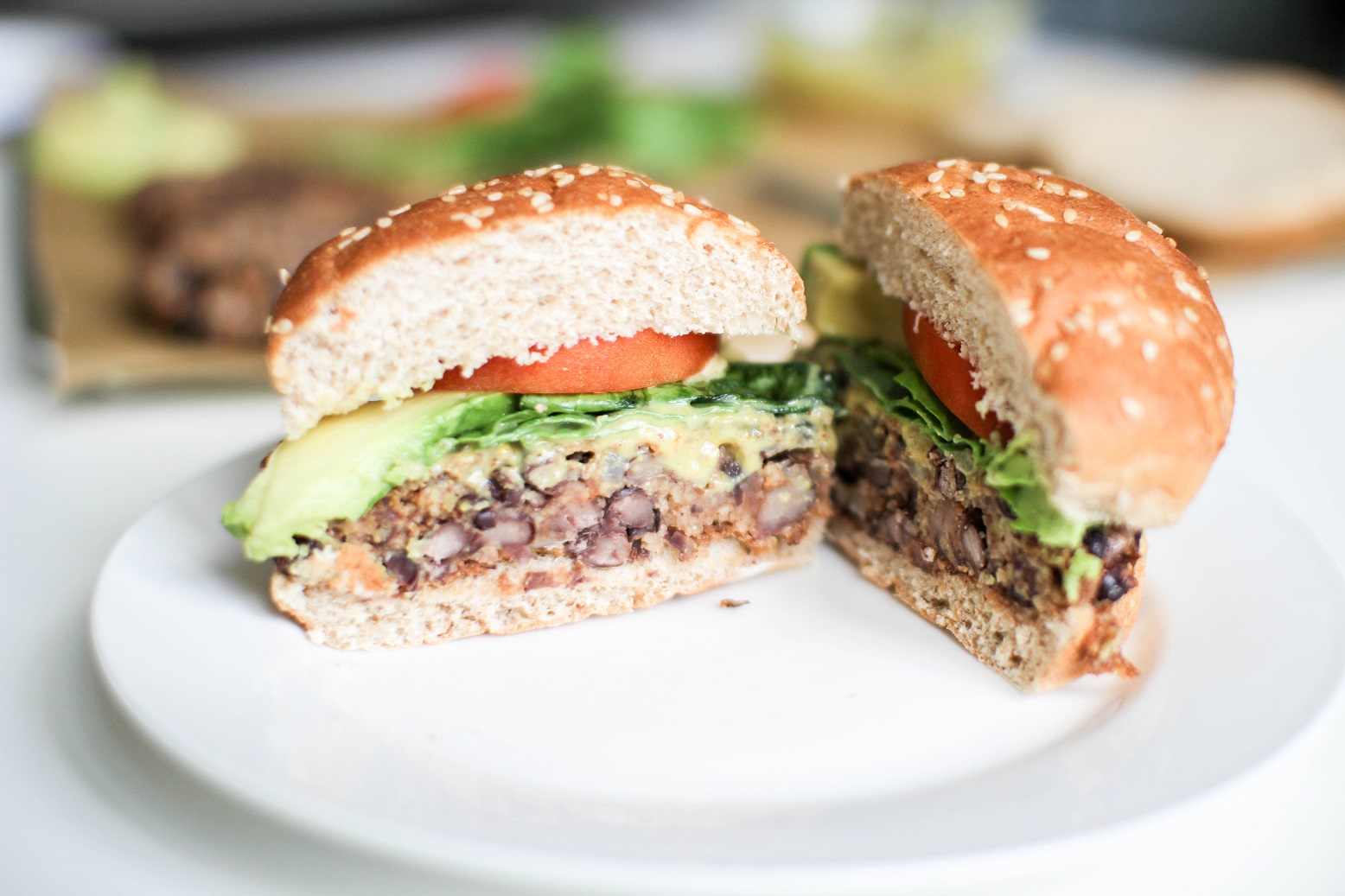 I have loved serving things family style lately. I started to obsess over it after watching Jamie Oliver's 15 minute meals. It's on Hulu. If you like cooking and have Hulu you have to watch it. He makes 2 full nutritious family meals in 30 minutes! 2 FULL MEALS PER 30 MINUTE EPISODE. It's amazing! Anyway he always serves his meals family style. I don't have any really cool large trays like he does so I just laid parchment paper down on a large baking sheet and served it that way.
Black Bean and Couscous Burger
Ingredients
For the Burger:
1 can of black beans drained and rinsed
1 cup cooked whole wheat couscous
1 small diced onion
1 flax egg (1 TBS flax, 3 TBS water)
2 tsp garlic powder
1 tsp smoked paprika
.5 tsp chili powder
Sea salt to taste
Pepper to taste
¼ cup corn starch (for dusting)
½ cup flour (for dusting)
Cooking spray
Your favorite burger toppings
For the Burger Sauce:
¼ cup spicy mustard
.5 TBS agave
1 TBS Sweet relish
1-2 TBS Soy milk (whatever milk you prefer)
Instructions
Add flax to water in a small bowl and let it sit for a couple of minutes.
Drain and rinse the black beans and add them to a mixing bowl.
Mash the beans with a fork to your desired preference- I like them mostly mashed with a few whole beans left over.
Add the prepared couscous, diced onion, flax, and spices to the beans and combine well.
Test for taste and adjust to your preferences.
Combine the flour and cornstarch on a plate.
Heat a nonstick pan over medium to medium-high heat.
Divide the bean mixture into 4, then form the patties by compacting them into a ball and flattening making sure to go around the edges with your thumb the ensure the edges are compacted.
Place the patty in the flour mixture to lightly coat the patty on both sides. Reform a bit if needed.
Lightly spray pan with cooking spray just before adding the patties to the pan.
Let the patty cook about 8 minutes.
Check the bottom for doneness.
Lightly respray the pan when you flip the patty so it crisps a bit and removes easily.
Cook for another 8 minutes.
Once burgers are done, serve on a bun with your favorite burger toppings with my burger sauce.
To make the sauce combine all ingredients and mix until smooth.
Adjust ingredient amounts based on texture and flavor preferences.