Tomato and caramelized onion flatbread, this is the stuff my dreams are made of! It's a great side to a nice salad for dinner or lunch. It's also a great vegan pizza alternative. Tomatoes and caramelized onion are a perfect combo for on top of crusty bread, don't ya think?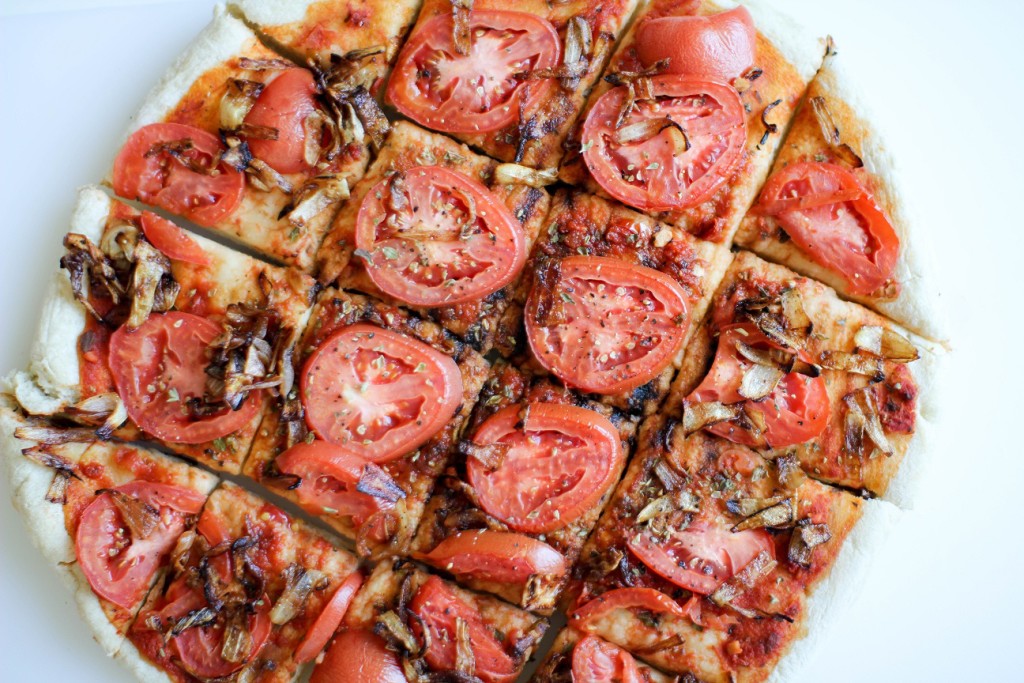 I am always looking for something to have with my salads. I LOVE salad, but I'm not the kind of gal to eat a dainty little salad and be pleased. No. I need something substantial. It needs to either be the type of salad that has a lot of warm/roasted vegetables on it, like my magic green salad, or like many of the ones I've posted to Instagram @KristinBellRD. OR my salads need to be served with flatbread. Exhibit A.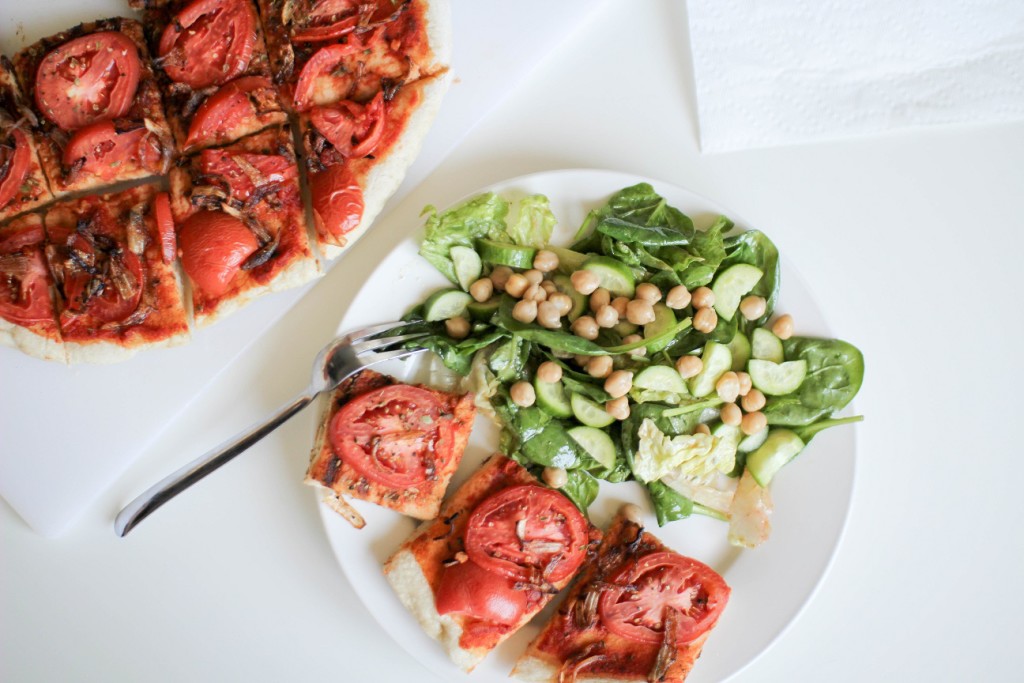 I suggest making a large salad for the family and serving it on a huge platter family style (my favorite) and making this flatbread and cutting it into small pieces for portion control. So we are reversing the typical pizza with a small side salad for a salad and a side of flatbread. You see what I did there? Eh, ehh (elbow nudge).
You might also like this Tomato and Mango Flatbread. What do you like to serve with your salad?
Tomato and Caramelized Onion Flatbread
Ingredients
Pizza dough, homemade or store bought
Tomato sauce
2 Roma tomatoes cut on a diagonal
1 onion
Sea salt
Pepper
Oregano
Instructions
Begin by chopping your onion in rings or strips, they shrink when cooked.
Add a tiny bit of oil in your pan over medium heat, move them around frequently.
After about 15 minutes add salt and pepper and continue cooking until done.
Remove from heat.
Preheat your oven to 400 degrees and put grill pan over high heat to start getting it very hot. *If you are not going to use a grill pan method, cook as if you would cook any pizza; 400 around 20 minutes usually works for me.
Stretch your dough into the shape and thickness you would like.
Spray your grill pan and put the dough onto the hot pan.
Cook until there are grill marks on the bottom.
Take the pan off the heat and flip the dough.
Top the flatbread with your favorite marinara sauce, tomatoes, caramelized onions, sprinkle with sea salt and oregano.
Finish the flatbread in the preheated oven for 10-15 more minutes.
Cut and serve.