These Vegan Enchiladas are seriously so good. If you make them and feed them to anyone they won't even know they are vegan. Plus they are so easy to make!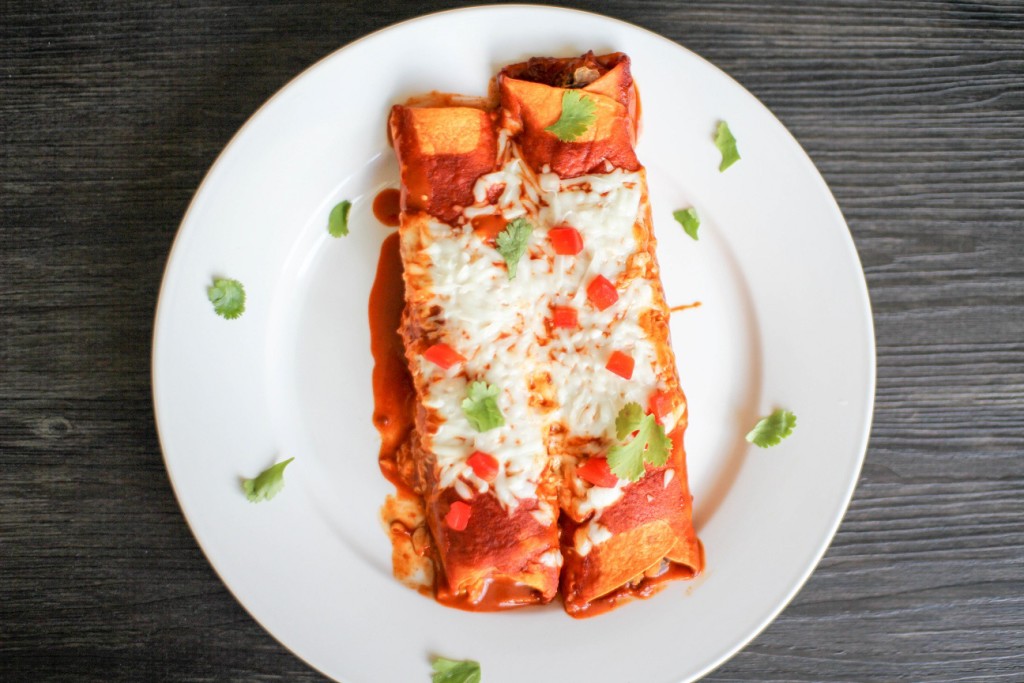 This recipe happened when I was cleaning out the pantry to make my grocery list. I needed to use some sweet potatoes that had been hanging out on the counter for a while. I had some left over Trader Joe's vegan cheese that I was tying out. I found a jar of enchilada sauce I bought a while ago and also had some assorted tortillas left over that needed to be used up; some whole wheat and some habanero lime. The rest of the ingredients are  pantry staples. It just came together so perfectly and will absolutely be made again very soon!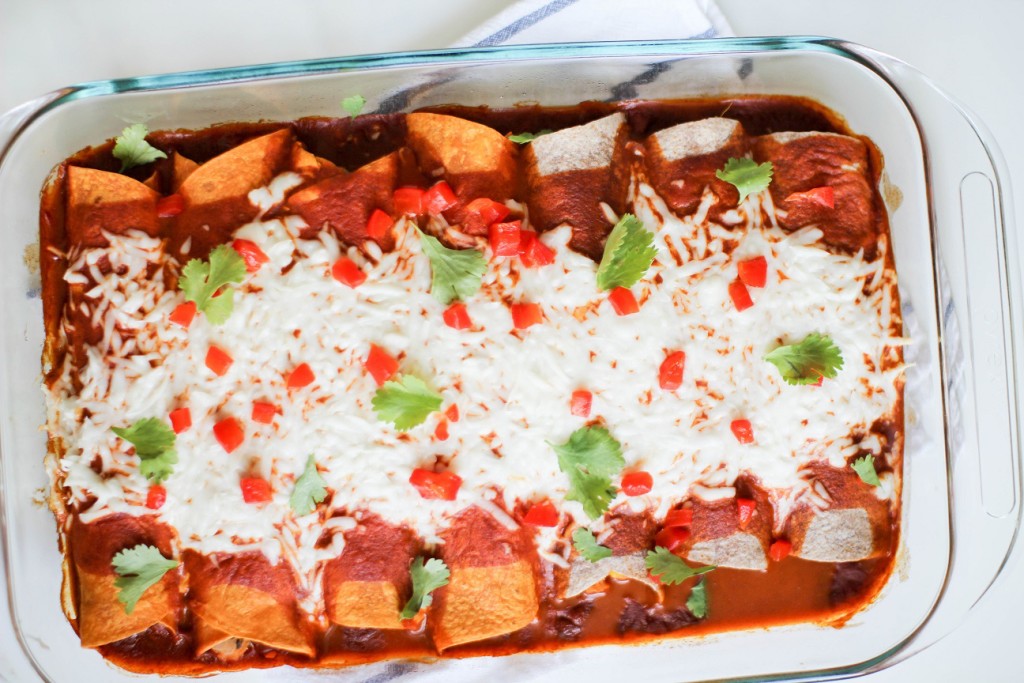 The sweet potato is a really nice base in the mixture because the other ingredients kind of stick to it and the mixture becomes moldable and stays in the tortillas really nicely while baking and while eating. If there weren't potatoes I think the mixture would just spill out. Plus the flavor is really great too!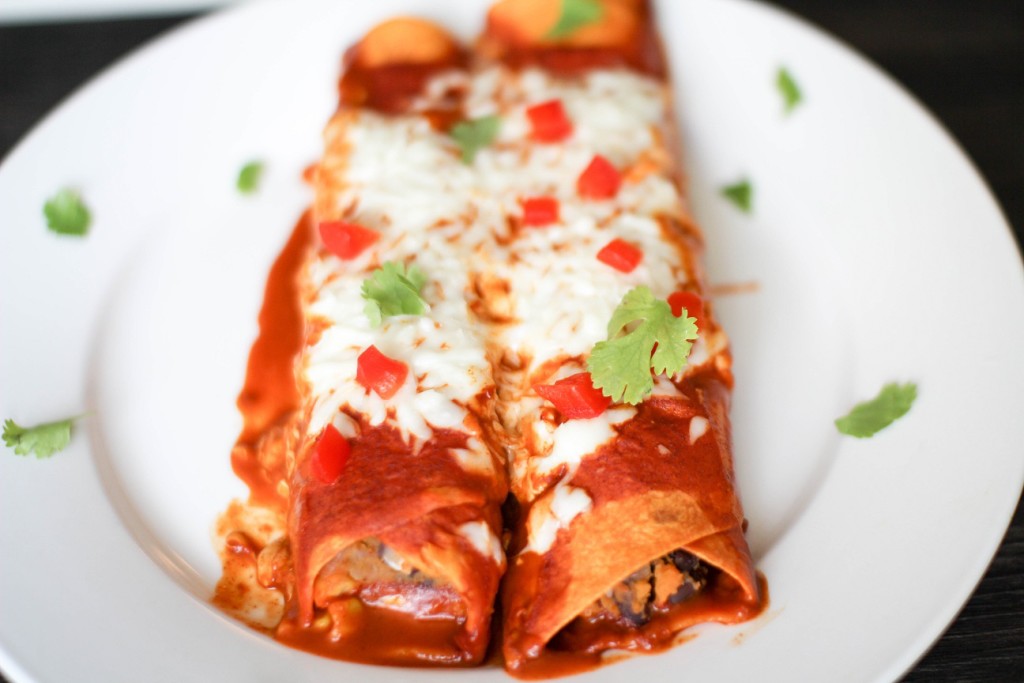 If you follow me on Instagram @KristinBellRD you know I love to make meal preps. These are PERFECT for meal preps. They fit perfectly into meal prep containers
. The left overs were put right into containers.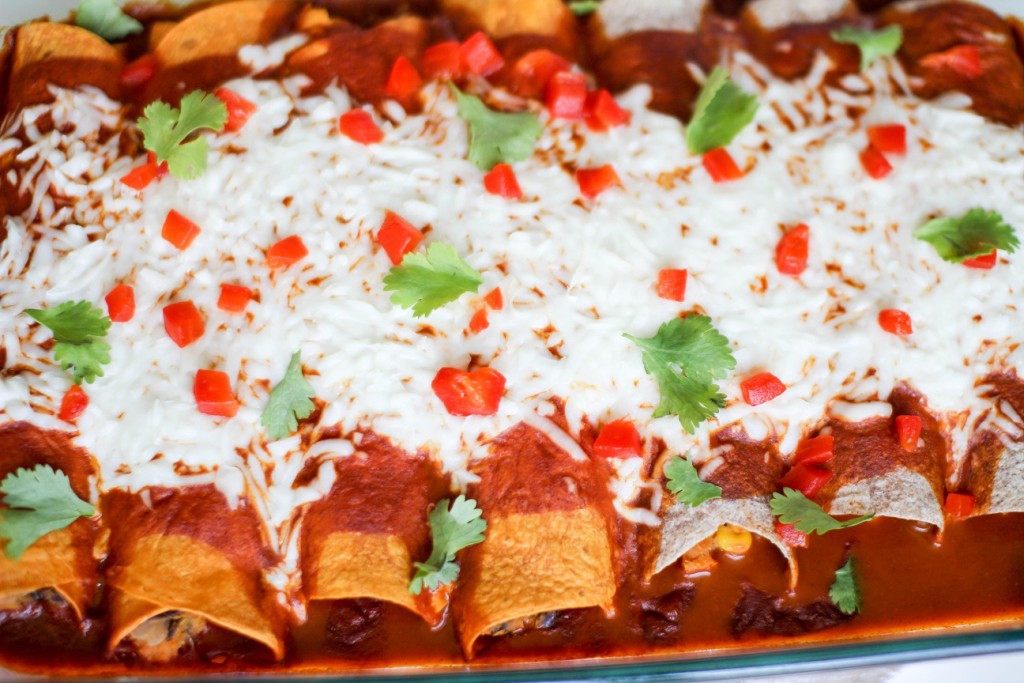 Vegan Enchiladas
Ingredients
2 cooked medium sweet potatoes (baked, microwaved, or boiled)
1 can black beans
½ cup frozen corn
1 small onion, diced
½ Fire roasted bell pepper
7-8 tortillas
1 jar enchilada sauce (Trader Joes)
½ cup Vegan Cheese (Trader Joes)
Salt
Pepper
Onion powder
Garlic powder
Chili powder
Smoked paprika
Cumin
Cilantro to garnish
Instructions
Preheat oven to 350 degrees
Begin cooking diced onion over medium heat 2-3 min. (no oil needed)
Add frozen corn, once it is defrosted add a drained can of black beans, and diced fire roasted bell pepper, lightly season with pepper, salt, cumin, smoked paprika, chili powder, onion powder, and garlic powder and cook until heated through.
Scoop out the cooked sweet potato and mash it into the mixture until it is all combined.
Lightly spray a casserole or Pyrex dish with cooking spray, lightly coat the bottom with Enchilada sauce and set aside.
On a work surface lay down a tortilla and put filling in, roll, and place fold side down in the baking dish.
Assemble all and place in dish.
Pour the rest of the Enchilada sauce on the top and sprinkle your vegan cheese on top.
Bake 20 minutes or until sauce is bubbling.
Garnish with some fire roasted bell pepper and cilantro.