It's called the Magic Green Salad because of its disappearing abilities! This salad disappeared very quickly. I think it might have something to do with the deliciously crusty roasted potatoes and asparagus. Just a guess though.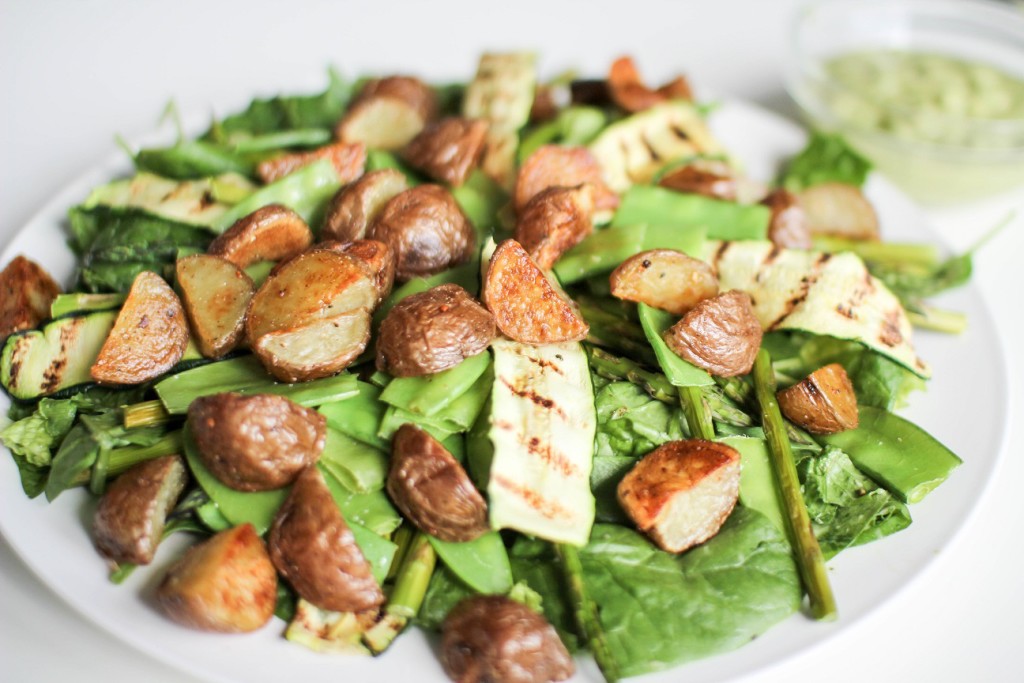 The picture makes the salad look small, but it's really on a huge platter. If you don't already follow a plant based diet, try this out for a meatless Monday dinner. I think you'll be satisfied.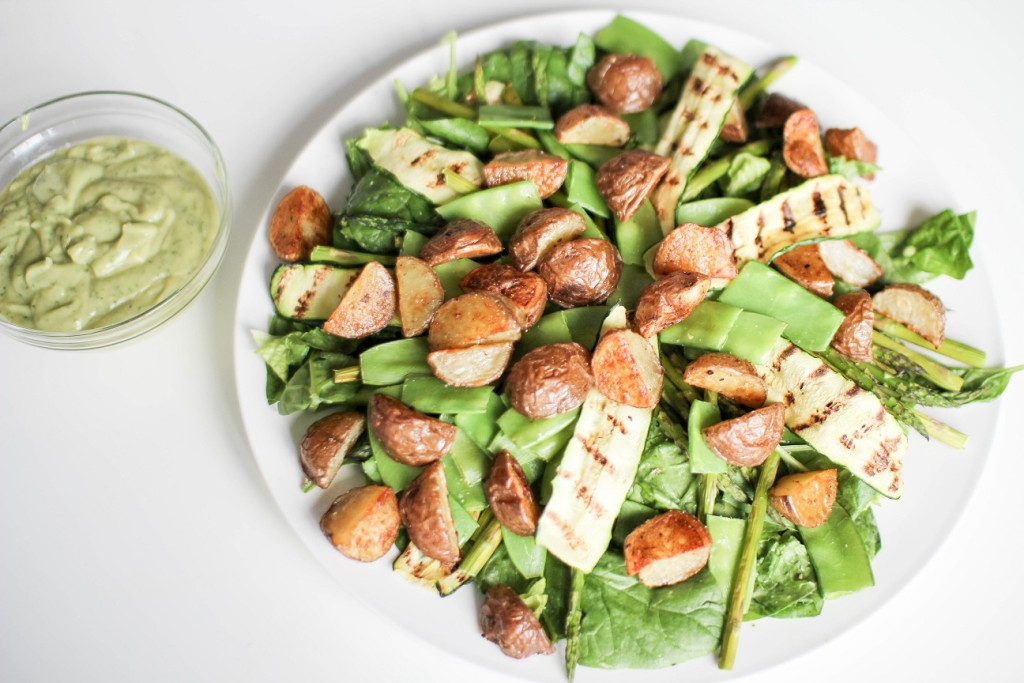 I made an avocado dressing for this but I think it would be really great with balsamic vinaigrette as well. And to get your zucchini really thin use a mandoline
if you have one. I've become obsessed with these thin sliced grilled zucchini. They're so good!
Magic Green Salad
Salad with roasted and grilled vegetables.
Ingredients
For the Salad:
1 bag baby spinach
½ head of chopped Romaine
10 small potatoes
1 green zucchini
2 cups sweet snow peas
1 bundle of asparagus
Olive oil
Salt
Pepper
Garlic powder
For the Dressing:
1 avocado
Handful of cilantro
Juice of 2 limes
2 TBS balsamic vinegar
1 TBS spicy mustard
1 TBS Olive oil
Salt
Pepper
Water
Instructions
Preheat oven to 400 degrees.
Wash potatoes and quarter them.
Add potatoes to a baking sheet (don't crowd them) lightly coat with olive oil, toss, and season with salt, pepper, and garlic powder.
Roast potatoes for about 20 minutes then flip and roast about 10-15 more minutes and remove from oven.
Cut woody ends off asparagus, add to a lined baking sheet and lightly spray with cooking oil, season with salt, pepper, and garlic powder.
Roast asparagus for 10-15 minutes depending on thickness and your preferred texture.
Cut asparagus in half.
Trim ends off zucchini and slice into thin strips; a mandolin works best.
Lay zucchini strips on a hot grill pan to soften and give grill marks.
Wash and drain spinach and chopped romaine.
Trim snow peas if needed and cut in half.
To make the dressing process all ingredients except for water in a food processor.
Adjust seasonings for preferred flavor.
Thin out the mixture to your preferred thickness or thinness using water.
Toss lettuce/spinach in dressing, add to a large serving dish and top with the snow peas, zucchini, asparagus, and roasted potatoes.