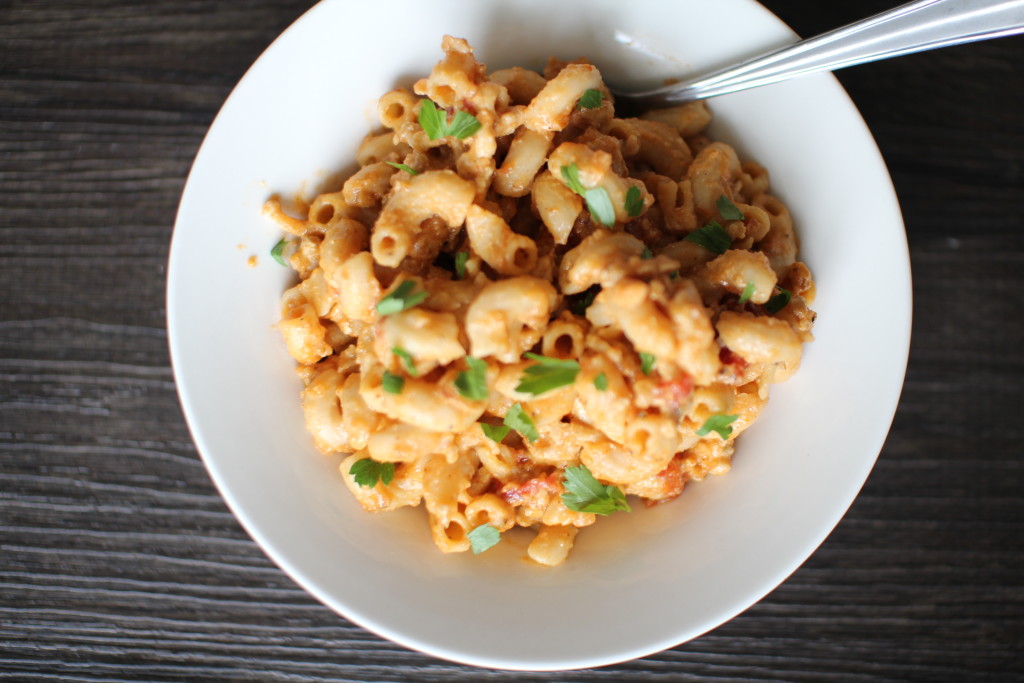 My mom used to make Hamburger Helper for dinner sometimes. It's one of those foods that is just so comforting to me. I was craving it one day and decided it was time to come up with a healthier alternative that I could make at home with ingredients that I had. I've made this more than once and it's delicious every time. It's so good that I feel guilty eating it for some reason!
Instead of beef, I use ground turkey breast. Here's a little tip: If you buy ground turkey in place of beef- you want to check the label to see if its turkey breast meat. I was fooled for a while before I read the labels. I thought I was getting less fat. One day I compared the label and realized the fat content was similar unless I bought breast meat! Keep an eye out.
I also used a box of pasta that has added fiber, protein, and omega's this time.
Healthy Hamburger Helper
Ingredients
1 Ib ground turkey
1 can diced tomato
1 box whole wheat pasta
1 cup FF plain Greek yogurt
3 TBS corn starch
2 TBS chili powder
2 TBS garlic powder
1 TBS sugar
½ TBS salt
¼ TBS pepper
½ TBS paprika
Cayenne if desired
Enough water to cover pasta.
Instructions
Use a large stock pot for this! This recipe makes a lot.
Brown your turkey in a large stock pot.
Add in a can of diced tomatoes, pasta, water to cover the pasta, and spices.
Cook the pasta until just BEFORE el dente with the lid on.
While it's cooking add enough cold water to corn starch in a pouring instrument to make a slurry; once the pasta has reached el dente add the corn starch slurry to the pot and stir, let it thicken.
Check your pasta for doneness. When it's done remove it from the heat. Let it cool for a few minutes. Add and stir in the yogurt now.
*May need more spices or corn starch based on the amount of water left at the end of cooking