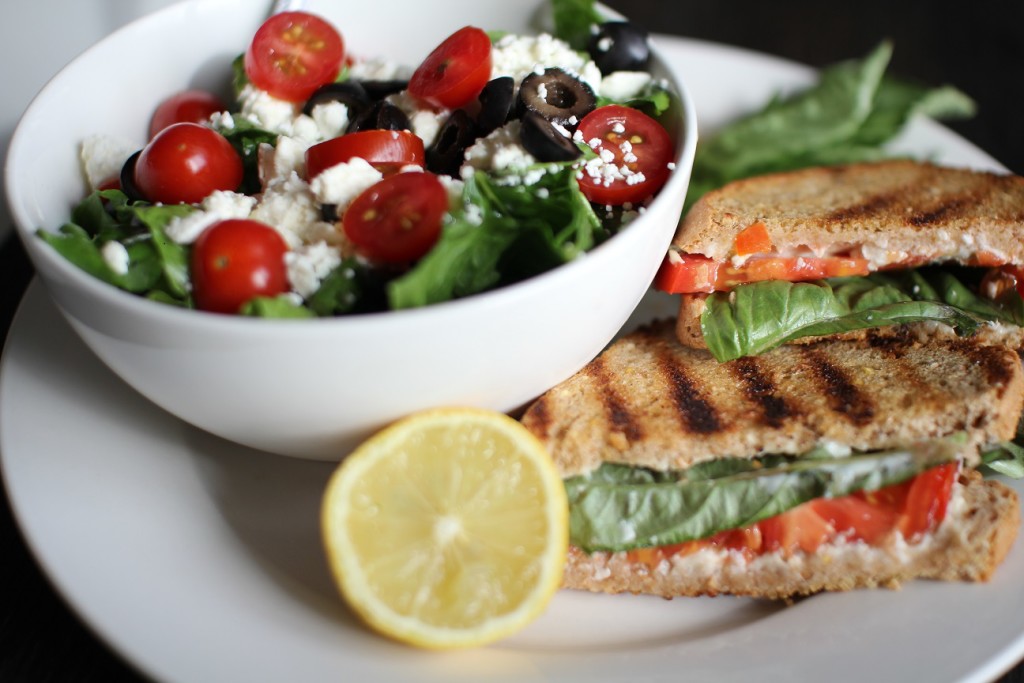 I started making this when I was in college, and I still make it today. It's one of my favorite lunches. I love grilled sandwiches. This one is especially flavorful, I actually prefer it to an actual cheese packed grilled cheese, and guess what- it has fewer calories. You've got to try this one! The warm tomato and basil are so amazing in this! I usually make it with a salad. I don't know about you, but 1 sandwich or 1 salad doesn't usually do it for me. I need both. This salad is great because of the saltiness from the feta, and olives and the acidity from the lemon. Mmmm, it's good and it's quick and easy to whip together.
Sandwich:
2 slices whole wheat bread
Sliced tomato
Fresh basil
1 Spreadable cheese wedge
Cooking spray
The cheese wedge I use is only 35 calories- you can choose which flavor you prefer. There is usually plenty of cheese in 1 wedge to spread on both pieces of bread. Depending on how large your bread is of course. Slice and layer your tomato on the bread and layer on the washed basil. Spray the outside of the bread with cooking spray. I find if I do it this way I can coat the bread evenly with less oil than if I were to drizzle olive oil or spread butter on it. I used a grill pan today, but a regular pan works just fine! Toast it in the pan until the bread is golden and the inside is warmed.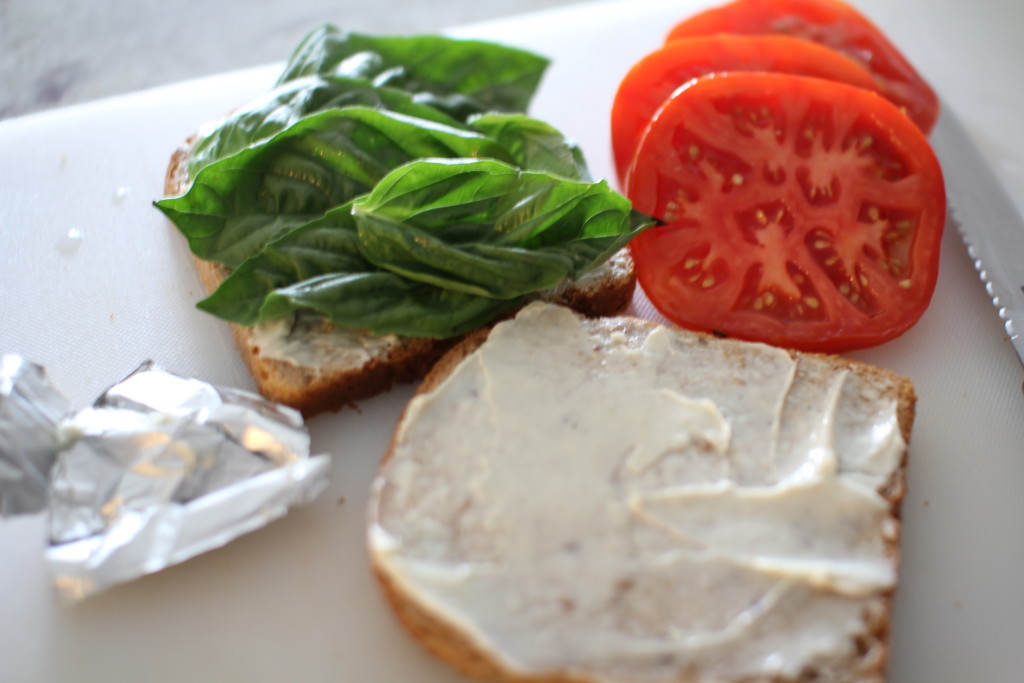 Salad:
Romaine
Tomato
Black olives
Feta cheese
Olive oil
Lemon
Cracked Pepper
I typically throw this together while my sandwich is toasting. Wash and cut romaine, cut tomatoes, cut olives or use sliced olives. Put your lettuce in your desired serving bowl. Squeeze the lemon juice onto the lettuce (hold the lemon facing up so the seeds stay in the lemon half). Give it a light sprinkle of pepper. Drizzle a little olive oil over, and toss the lettuce to coat it. Then top it off with your tomatoes, olives, and feta. I usually give it and extra squeeze of lemon over the top. Love the lemon flavor.