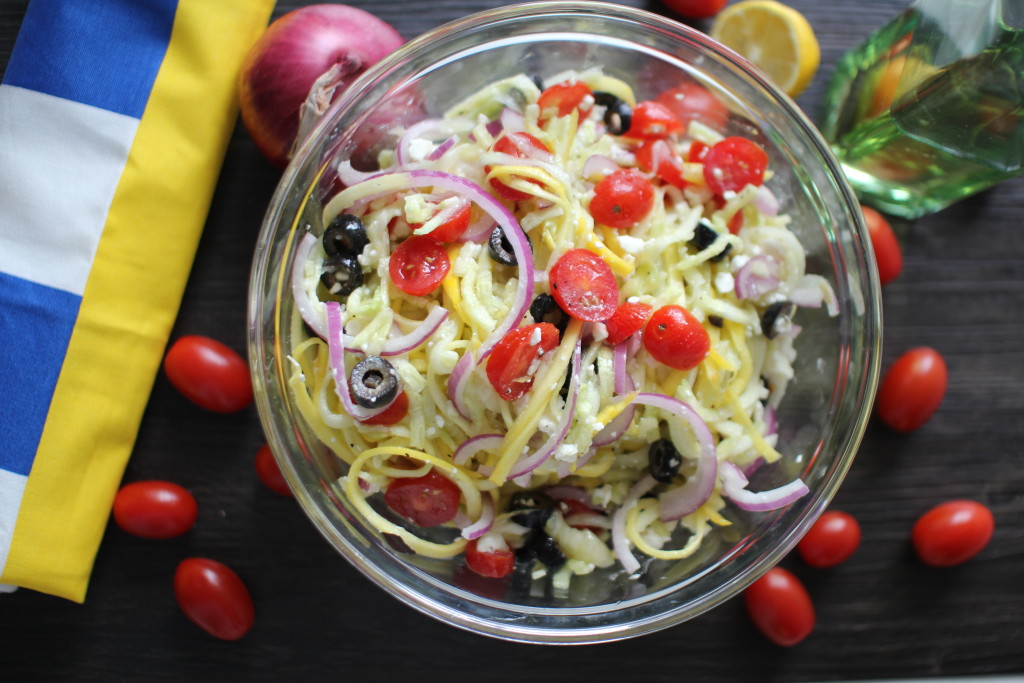 Zoodles have become very popular. The first time a saw a spiralizer I was dying to get one! I found mine in an as-seen-on-TV section at a grocery store for $19.99 but amazon has them for much cheaper.
I hold the veggie in the hole and turn it, easy peasy. There are so many things you can do with these things. I recommend adding one of these to your kitchen gadgets… kitchen gadgets are my FAVORITE!
This salad is so easy and so fresh! No cooking needed, just throw it together! It's a great side dish for dinner or lunch. Not to mention a fun way to get a serving of veggies! Let's get started.
1 large cucumber
2-3 yellow zucchini
¾ cup fresh diced tomato
1 small red onion
½ cup feta cheese
¼ cup sliced black olives
1-2 lemons
3 TBS olive oil
1 tsp sugar
Cracked pepper
Peel your zucchini and cucumber and spiralize them. Cut your tomato, whatever kind you have on hand will do. I had cherry tomatoes and just made small slices. If you use a larger variety tomato I suggest deseeding/depulping it. It's easy. Cut the top off. Over the sink stick your index finger where the seeds and pulp are, it should come out pretty easily. Then dice it. Thinly slice your red onion into rings then cut in half. I use a mandolin slicer, it's easy and quick- I do love kitchen gadgets.
Drain and rinse your olives then slice them if they need it. Place all ingredients in a large bowl. To make the dressing juice 1-2 lemons, depending on how lemony you like things! Add 3 TBS olive oil, 1 tsp sugar, and cracked pepper. Pour it over your zoodle mixture and combine until it is well coated.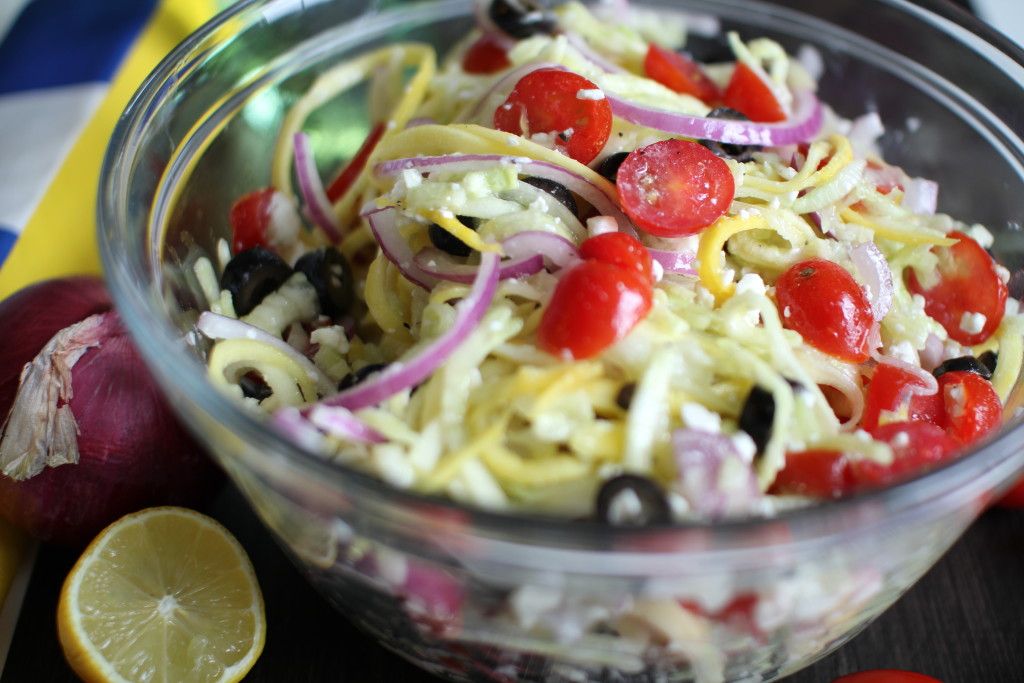 At this point you can eat it or put it in the fridge. The longer this sits the juicier it gets. The cucumber really lets a lot of moisture out, and everything just marinates in the flavors, it's so good. It keeps pretty good in the fridge for a few days. I give it a quick stir to distribute the juices before I served it.
If you don't have a zoodle maker or spiralizer you could make something similar! Slice your zucchini long ways into fourths, cut out the seeds and dice it. Do the same with your cucumber- it may need to be cut into sixths depending on its size. Then mix in the rest of the ingredients.
I also make a version of this with chickpeas and no zucchini. I cut the cucumber like above (diced) and then combine everything. It's so good, my husband requests it frequently!
I hope you love this recipe as much as we do!