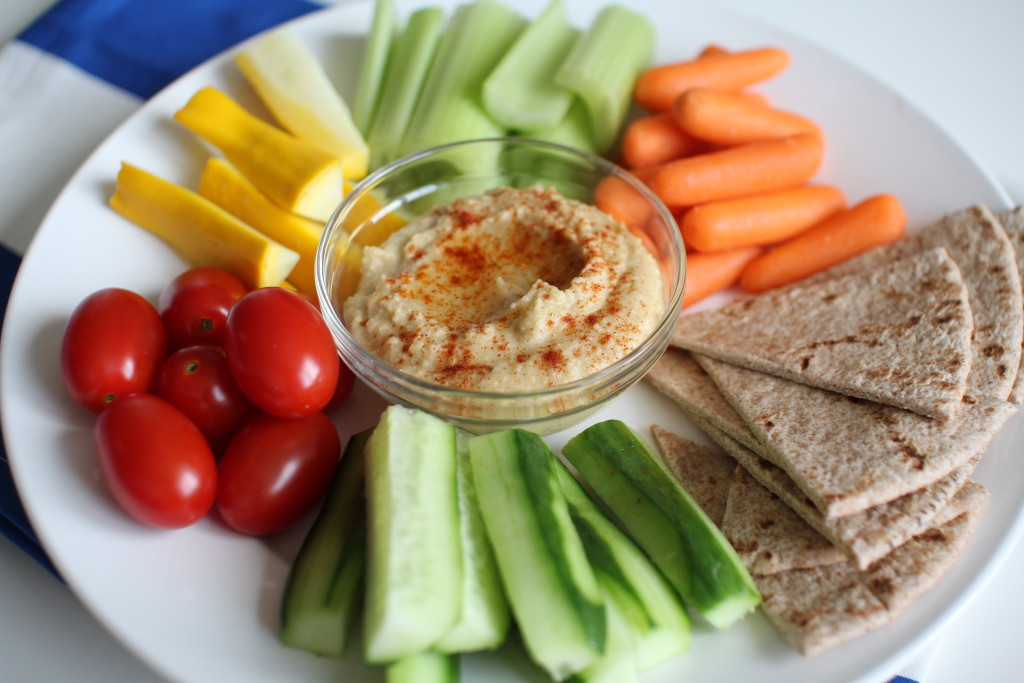 Let's be honest. Sometimes, it's just no fun to eat our veggies. A hummus and veggie plate is a great way to contribute to your daily intake of everything vegetables have to offer! Vitamins, minerals, phytochemicals, and fiber! It can be taken to work and school if you have tupperware, and it's a great snack to keep around the house.
With this homemade version of hummus, you won't worry about over eating fat calories.
Store bought hummus is 70 kcals per 2 tablespoons and 50 of those calories are from fat. This homemade version has much less fat, so I can eat more. Who eats only 2 Tablespoons of hummus anyway? I know I have a full tablespoon even before I've dipped anything in it. I avoid a lot of fat calories by using less olive oil, and I don't use tahini. For some more hummus and veggies check out my Grilled Veggies and Hummus Trio.
2 cans low sodium garbanzo beans
3 TBS olive oil
3-4 TBS cumin
2 tsp garlic powder
Fresh cracked pepper
*1 Lemon- juiced
*I don't always use lemon, just felt fancy today. The asterisk makes me feel even fancier.
For this you will want the reduced sodium cans of garbanzo beans because you will be using the liquid from the can (this is how we avoid using too much fat). If you are using a food processor you don't need as much liquid; if you are using a blender you may need a little more to get things going.
In a food processor, add 1 full can with all the liquid. Drain the other can (save the juice in a cup or bowl in case you need it) and add it to the processor. I usually process it a little before adding the other ingredients. Then add the rest of the ingredients and process until it is smooth. Taste it and adjust seasonings to your liking. I usually end up adding more cumin. I just love it in this.
There are so many ways to enjoy your homemade hummus; today I had a veggie plate with carrots, tomatoes, celery, cucumber, yellow summer squash, and whole wheat pita bread. You could also add a variety of bell pepper, snow peas, and olives. I garnished the hummus with some paprika and a little olive oil.
I make a lot of things with this homemade hummus, more to come!