I love this salad- it's similar to Waldorf salad but I wouldn't dare call it that because with greek yogurt instead of mayonnaise it just shouldn't be associated. You can feel good about eating this and giving it to your family and friends.
8 chicken tenderloins or 3 breasts
1.5 cups red grapes
1 green apple
2 celery ribs
1 cup plain fat free Greek yogurt
Fresh basil
Pepper to taste
This is one of those recipes that I don't measure. I just eyeball everything.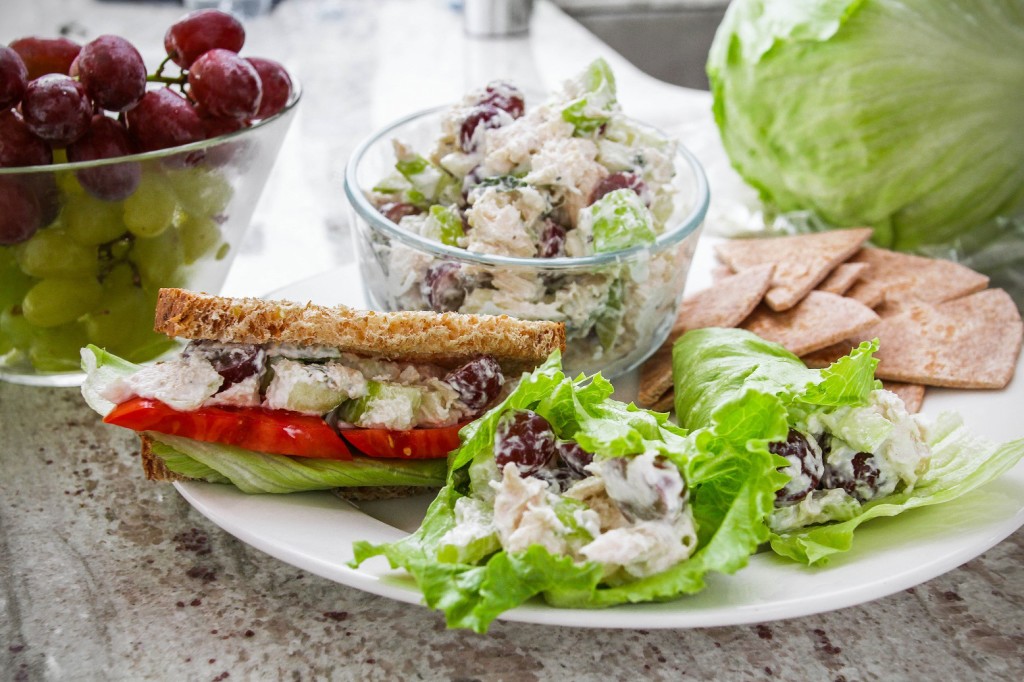 Boil your desired amount of chicken breast or tenderloins until cooked. Mine took about 10 minutes from frozen. Set them aside to cool while preparing the other ingredients.
Remove red grapes from the stem and cut in half (if you want to be fancy…use this Grape Cutter

). Cut 1 green apple into ¼ inch pieces. To keep them from turning brown, put 1 tsp of white vinegar in a bowl and fill the rest with water. Keep apples in vinegar/water mixture for a minute or two. Then clean and cut your celery into ¼ inch pieces as well. Tear desired amount of basil. Then shred your chicken with 2 forks, or you can dice it with a knife; whichever you prefer. Now mix all ingredients then chill for about 30 minutes. *Use enough yogurt to make the mixture wet, I give it a little extra because once it is stored in the refrigerator for a bit it can get a little dry. Walnuts would be a great addition to this.
This chicken salad can be served alone, with pita bread, in lettuce wraps, or on a sandwich! It is very versatile. How would you eat it?