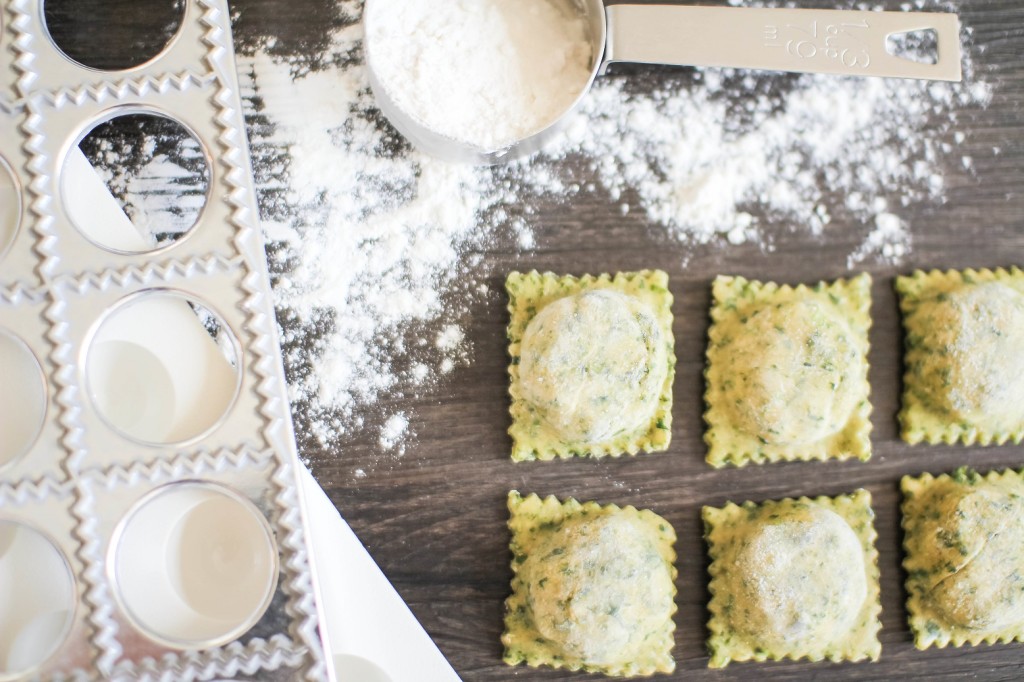 Making homemade pasta is special. You can do it yourself but it is much more fun to get your family involved. My mom let us make these with her when we were kids. We had them for Christmas dinner one year. So traditional, right? We have a large family and always had some extra guests- we made ravioli for days. I'm pretty sure I would beg my mom to make these. It's possible I am the biggest pasta hoard in the world- even to this day. Needless to say I will never forget how to make Ravioli. It really is so simple, just a little time consuming.
I have made them as an adult a few times myself, and they just never turned out as good as my moms. So- I invested in this inexpensive mold
. Totally worth it! 100%. Now that I use a mold they come out perfect every time. Though, I do wish I had one of these bad boys
. But, I don't have a Kitchen-aid mixer… yet. I finally got one and I'm so in love!! The pasta attachments are next on my list!
You can make these for a special date night, for something to keep your kids busy, or just because. I have been keeping some in my freezer lately, so easy to just cook up a batch.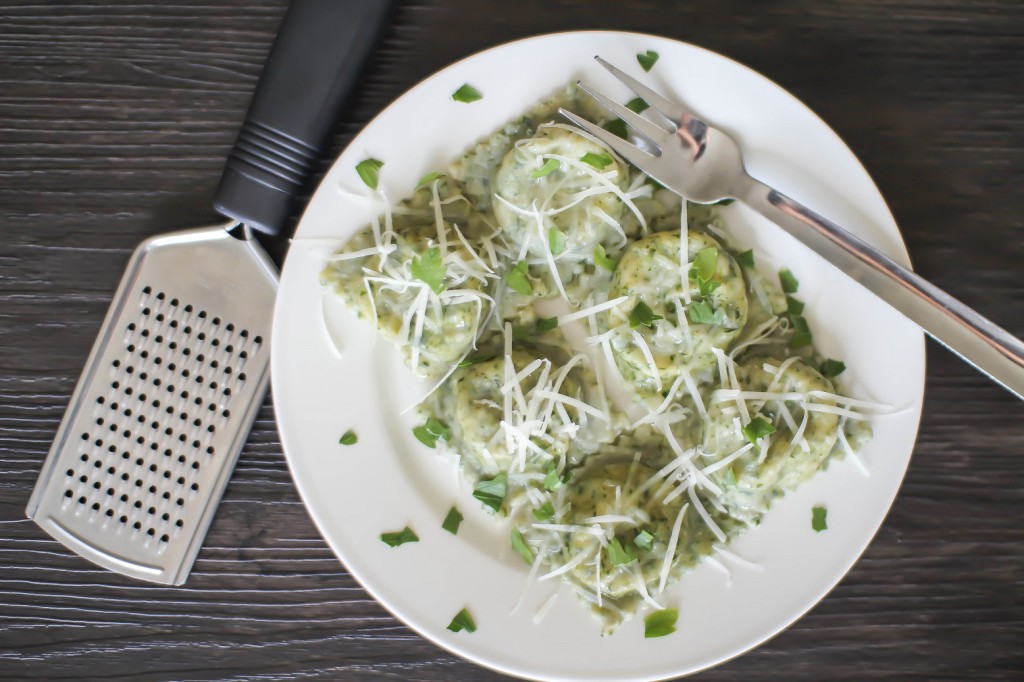 The filling in these is so deliciously earthy. The mushroom and rosemary are so wonderful together. Fennel seed is one of the distinctive flavors in sausage. It's a fun spice to add to meatless dishes; people wonder if there is meat because of the familiar taste.
Growing up we always did a cheese mixture with spinach. This time I added some mushroom just to add more vegetable and use less cheese. I also added spinach and some whole wheat flour to the dough for more nutritional value. You can also try my Homemade Vegan Ravioli.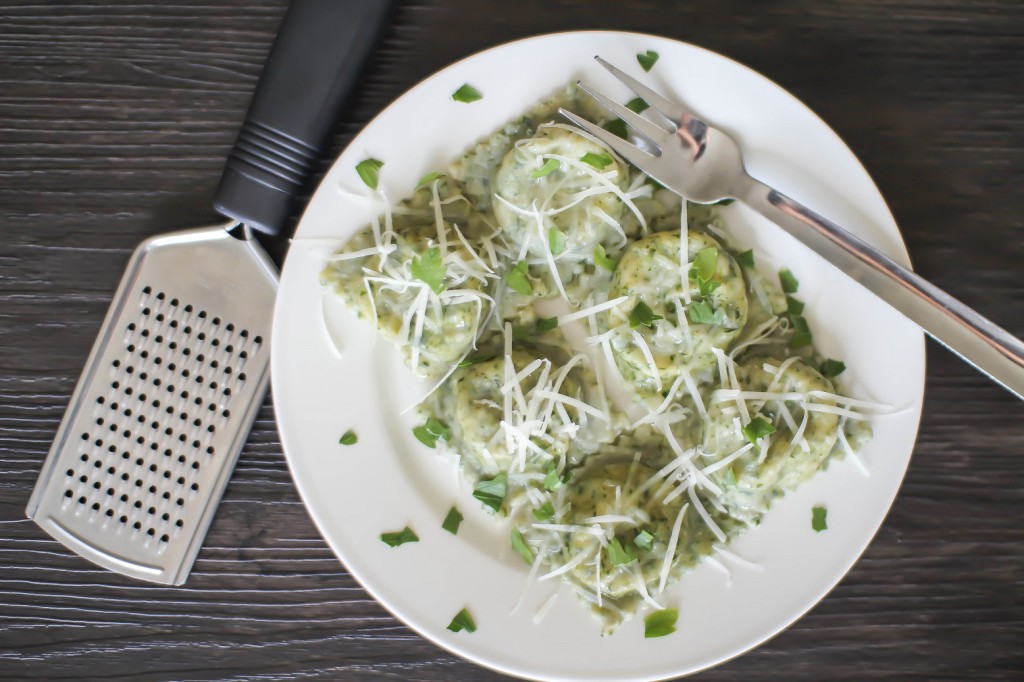 Homemade Mushroom Ravioli
2014-09-24 09:46:30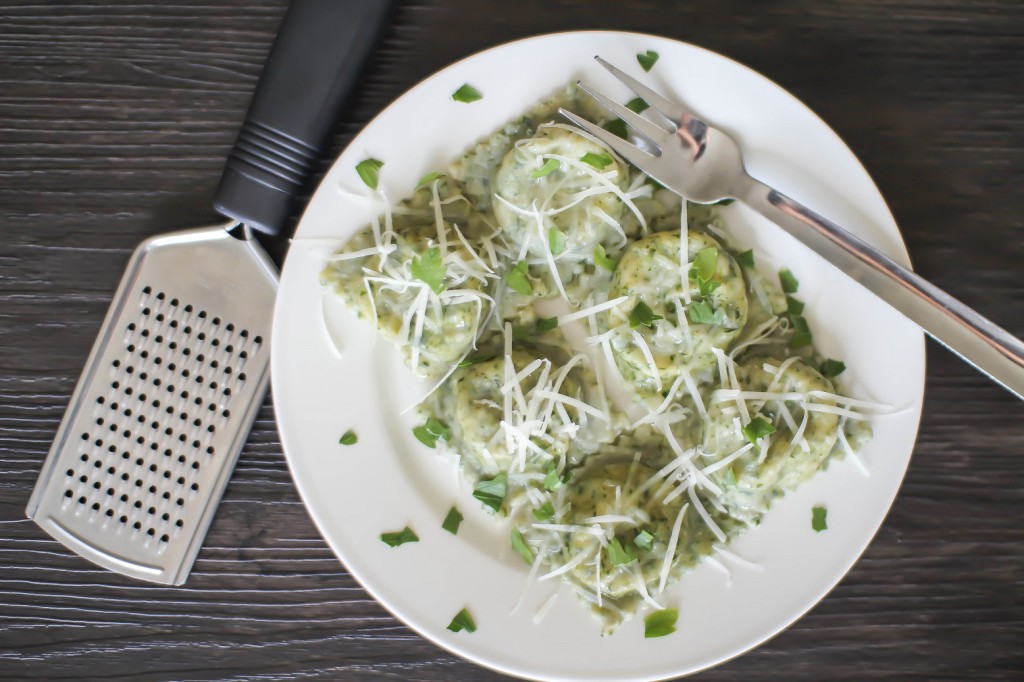 A deliciously earthy homemade ravioli.
Dough
½ cup whole wheat flour
1 cup all-purpose flour (*flour note at bottom)
¾ tsp salt
2 eggs
2 TBS water
2 TBS oil
¼ cup defrosted chopped spinach with all water squeezed out (optional)
+ 1 egg for sealing dough once rolled out
Filling
½ pint mushrooms, finely chopped
¼ cup frozen chopped spinach
1 clove garlic minced
½ TBS chopped fresh rosemary
½ TBS fennel seeds
1 cup fat free ricotta cheese
¼ cup shredded part skim mozzarella cheese
¼ cup pecorino-romano cheese (or other salty hard cheese)
To make the dough
Mix together all ingredients and form a smooth ball. This can be started in a food processor, a bowl, or on a clean floured surface. It works any way you choose, as long as you knead it by hand at the end to push all the pieces together into a smooth ball. You may need more water or more flour.
Wrap with plastic wrap and let it rest 20-30 minutes.
To make the filling
Sauté mushrooms (no need for oil in the pan) with rosemary, fennel seeds, garlic, and pepper. Once close to being ready- add the frozen spinach and let it defrost in the warm pan.
Let the mixture cool slightly.
Combine all cheeses with the mushroom mixture in a bowl.
Test the combination for flavor. Adjust to your preference.
To assemble ravioli
Once your dough has rested- divide it into quarters with a knife. You should get about 36 ravioli from this dough. You will roll out each section of dough and have 2 tops and 2 bottoms. Once you recombine the scraps, you will get another top and bottom. Each time you roll your dough you should get about 12 ravioli, x 3 = 36 total ravioli. You may need to use wet hands to reincorporate some water to the scraps, then knead it in a little flour again to get rid of the dampness.
Roll out your first dough with a rolling pin, this will take some muscle. Get it as thin as you can without ripping it, making sure that it is even thickness all around. If you have a pasta maker, make sheets of dough with it. They should be the perfect size. Then place it on the metal part of the ravioli mold that has been sprayed with non-stick spray (**see note if you do not have a mold). Fit the white piece on top and set it aside while you roll out another piece of dough.
Remove the white part of the mold. Using a tablespoon, fill each hole in your dough on the ravioli mold. Make sure to completely fill the hole pushing out all air. Using your finger or a small pastry brush, paint the dough with some egg wash, this will help glue together the dough.
Lay the bottom layer of dough on top carefully making sure to not seal in any air.
Run your rolling pin over the mold to cut the ravioli.
Set the cut ravioli on a flat baking sheet with parchment paper to allow it to start drying.
You may put the cookie sheet in the freezer at this point, eventually flipping the ravioli to freeze the other side. Once frozen store them in a freezer bag and cook when you are ready.
To cook them bring a large stock pot of water to a boil. Boil for 10-14 minutes from frozen. Drain. Top with olive oil, cheese, and herbs or with your favorite marinara sauce.
Notes
* You may wish to use cake flour for more tender pasta. It has less gluten (protein) which is what makes the dough slightly more dense, or tough.
**A ravioli mold is not necessary but does make the process much easier and quicker. There are a few other methods you could use.
Roll out 2 pieces of dough, top and bottom. Place 1 TBS of filling a couple inches apart. Lay the top dough on and carefully remove all air. Then cut with a ravioli roller cutter, stamp, or a knife. You may want to seal the edge with a fork imprint.
OR
Roll 1 layer of dough out. Use a large round cookie cutter or cup to cut circles in your dough. Put a TBS of filling in the circle. Fold it in half to make a half moon shape making sure to remove all the air. Seal the edges with a fork imprint.
Recipe Righter https://www.reciperighter.com/