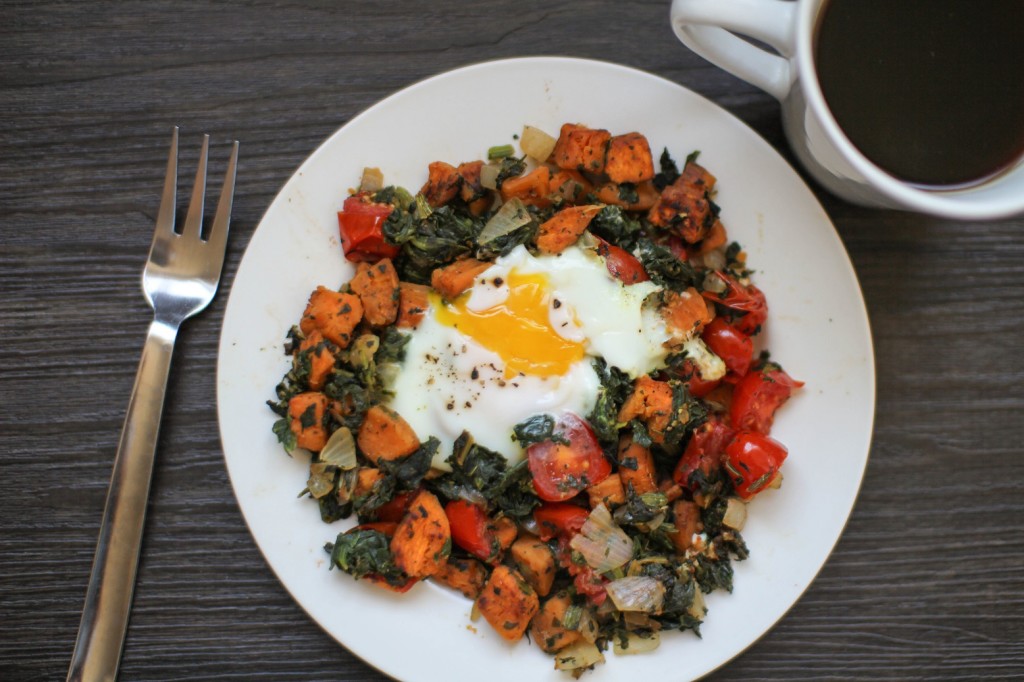 Savory sweet potatoes for breakfast… Yes please, absolutely!
This is everything you could dream of for breakfast! It's so delicious, so flavorful. It has a protein, fiber, and you can sneak in a large serving of vegetables before your day even starts. In one word- satisfying. This breakfast just feels like fall- but is good anytime of the year.
Best enjoyed with a window open to enjoy the fresh fall air!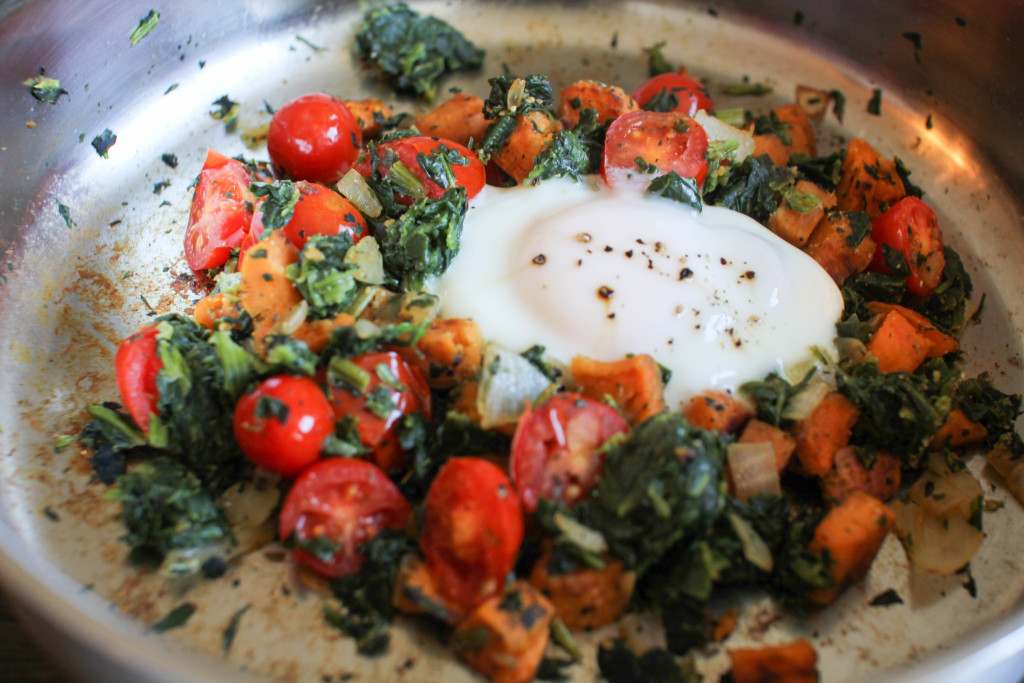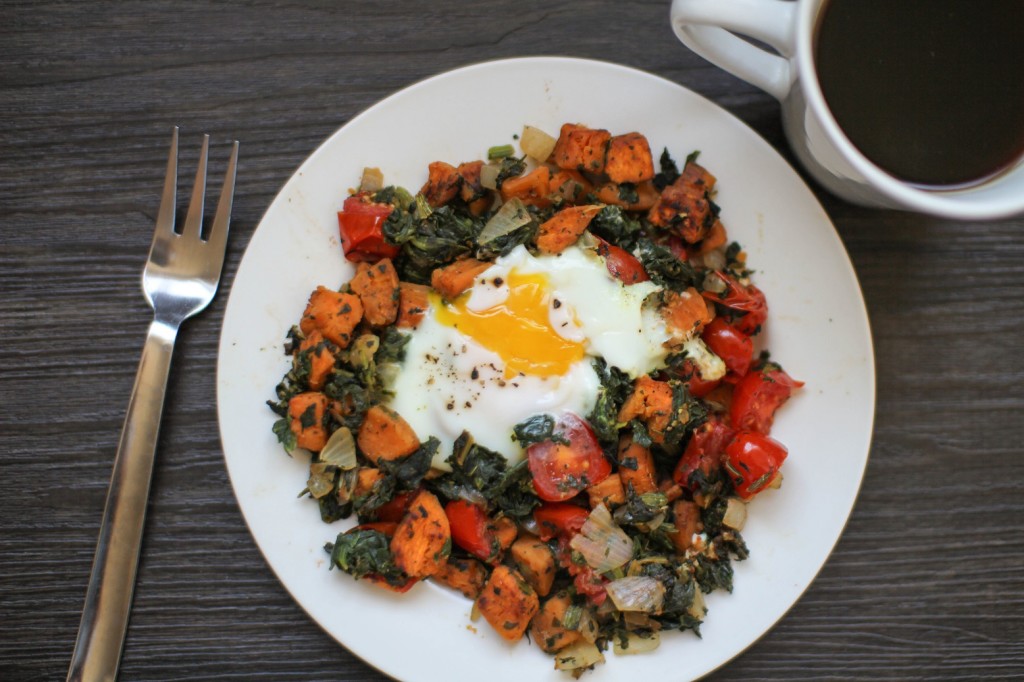 Rustic Sweet Potato Hash
2014-09-23 09:32:45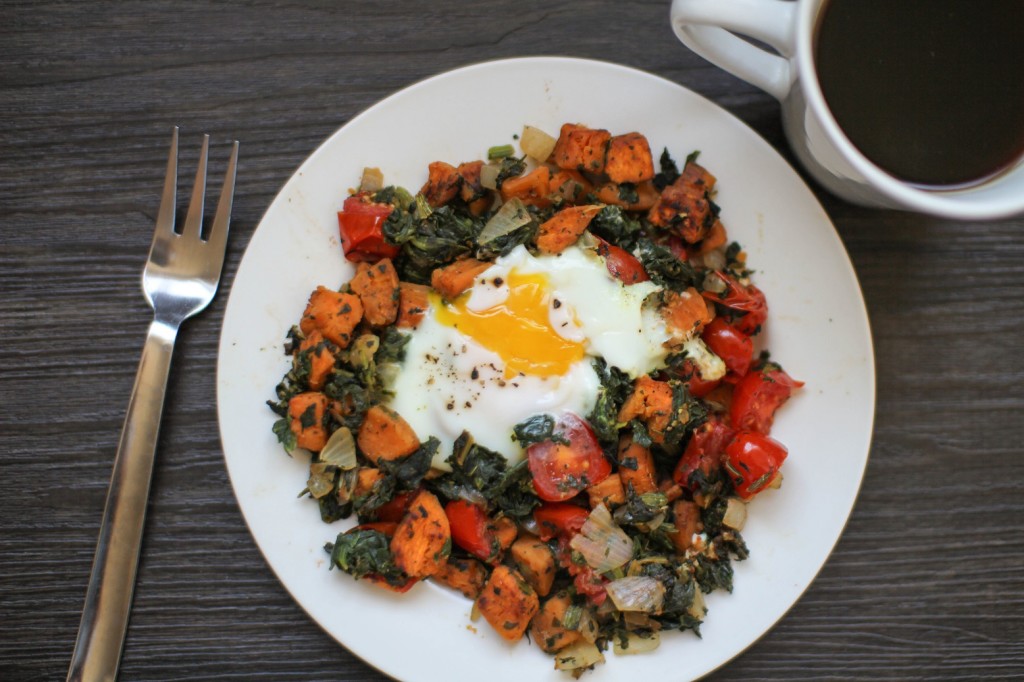 A healthy, rustic breakfast that is satisfying and delicious.
Ingredients
1 small sweet potato
¼ cup onion
¼ cup spinach, fresh or frozen
¼ cup tomato
1 egg
Garlic powder
Pepper
Cooking spray
*amounts can easily be adjusted for preference, and # of people being served.
Instructions
Use a sweet potato you cooked previously or prepare one. To prepare one quickly- wash, poke with a fork, loosely wrap in a wet paper towel, microwave for 3 minutes, test for softness, flip it and return it to the microwave for another 2-3 minutes. Don't over-cook it or it will get tough. Let it cool and dice into ¼ inch pieces.
Spray a skillet that you have a lid for and put in your sweet potato pieces to start to brown them over medium or medium high.
While that is cooking dice some onion, cut some tomato, and pull out your spinach.
Move your sweet potatoes around and make sure they are browning. Add the onion to the potato. Once they start to brown add your spinach. Let it wilt if fresh, or defrost if frozen.
Just before you are ready to put your egg in, add the tomato, a dash of pepper and garlic powder then stir the mixture to incorporate.
Push everything to the center of the pan. Directly and carefully crack your egg(s) on top of the hash. Put the lid on immediately. Allow it to cook 1- 2 minutes with heat still on and another 3-5 with it off. The heat inside the pan should cook the egg. Check it- if the egg is not cooked to your preference, it may need additional time on the burner or with the lid on.
Recipe Righter https://www.reciperighter.com/