This quick red beans and rice recipe is great on those nights you need to get dinner done in 10 minutes! Let's face it, sometimes we just don't feel like slaving over the stove top even when we have the time.
There is tons of fiber from the brown rice and red beans. Not to mention the protein- turkey sausage plus the red beans and rice! Fiber and protein equal a winning meal! And come on canned tomatoes are God's gift to earth. Why is the saying "the best thing since sliced bread" it should be "the best thing since canned tomatoes." Right!?
Whip this dish up, and put your own spin on it! You can make it spicy, vegan, you can even add lots of fresh or frozen veg if you want and still get dinner on the table quickly.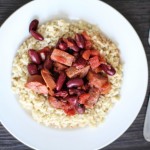 Quick Red Beans and Rice
2015-03-05 09:58:45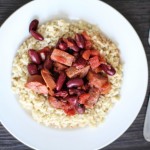 Serves 2
A quick nutritious protein packed meal.
Ingredients
1 (before cooking) cup quick cooking brown rice
1 can low-sodium red kidney beans
1 can diced tomatoes
½ package turkey kielbasa sausage
Cajun seasoning
Diced onion- optional
Minced garlic- optional
Instructions
Prepare quick cooking rice according to directions on the box.
Cut turkey sausage into half-moon pieces.
Brown the turkey sausage in a large sauté pan with Cajun spices.
If using fresh onion and garlic brown at this time.
Add the beans and diced tomatoes.
Heat until warm.
Serve over rice.
Notes
This dish can easily be made vegetarian/vegan by leaving out the sausage. You still get a whole protein out of the rice and beans.
If you like things on the spicier side try using diced tomatoes with green chilies in them.
Recipe Righter https://www.reciperighter.com/