We eat a lot of pizza at our house. Which means sometimes I need to get inventive to keep from getting bored. Have you ever had a stuffed pizza? I worked at a pizza joint when I was a teenager. They made an awesome stuffed pizza, which I never made while I worked there but I saw it made a time or two and it's pretty easy if you know how to roll out dough! My version has less fatty meat, vegetables, and part skim cheese.
I happened to use store bought dough because I didn't want to wait for it to rise, and the store had herbed dough that looked divine. You can use whatever dough you like.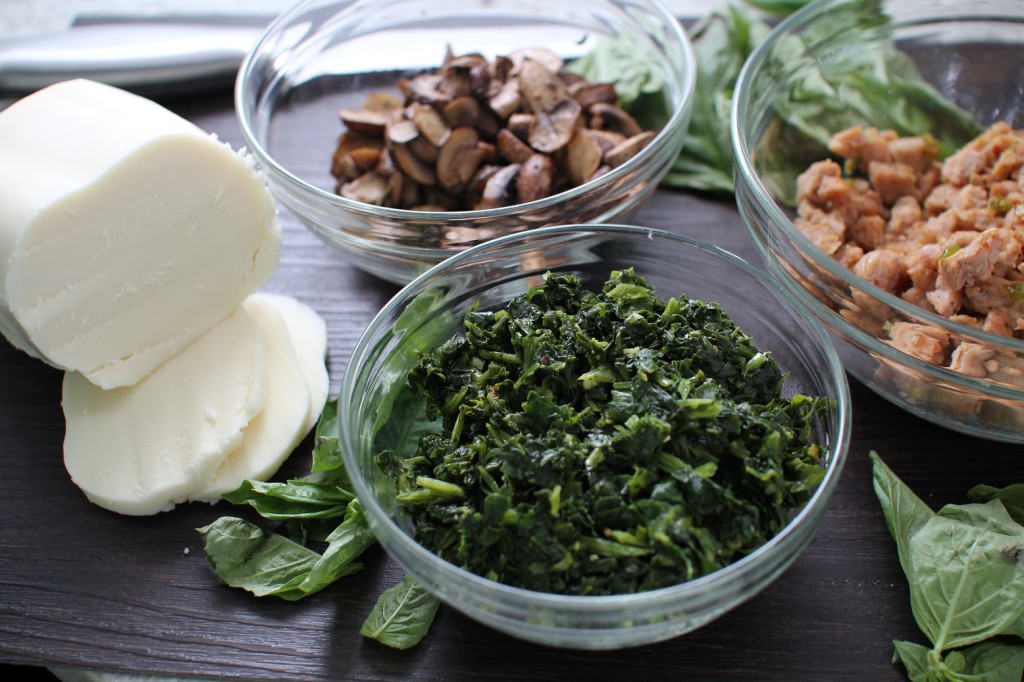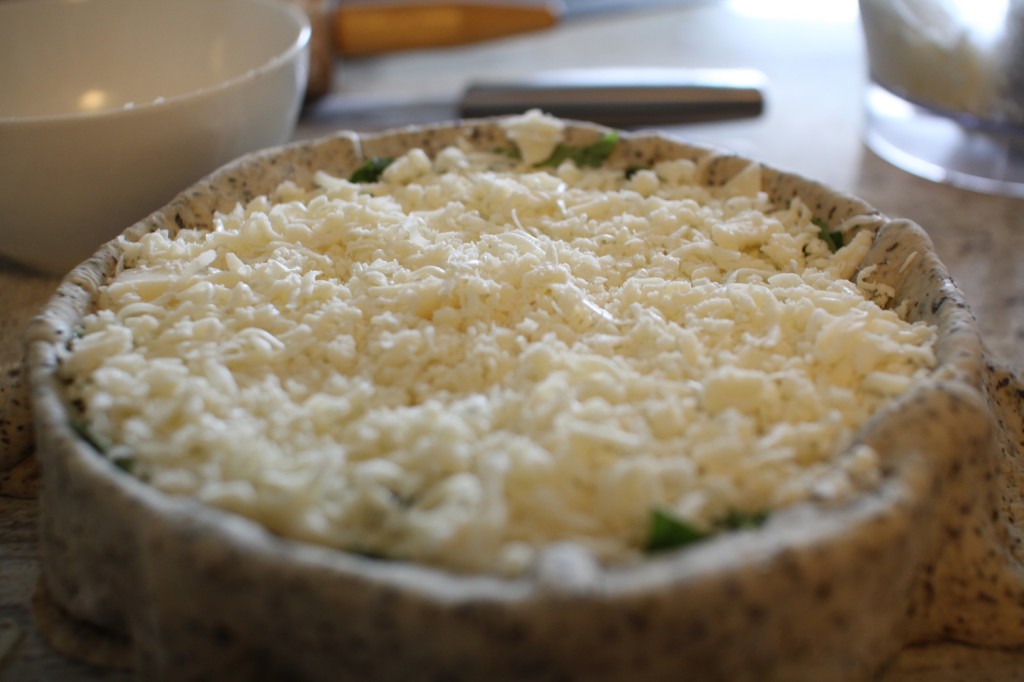 Stuffed Pizza
2014-09-29 19:59:46
Ingredients
2 pizza dough
Italian chicken sausage
Frozen spinach
Sliced mushrooms
Fresh part-skim mozzarella
Fresh basil
Fresh garlic
Garlic powder
Dry oregano
Olive oil cooking spray
Cake pan
Instructions
Preheat your oven to 380 degrees.
Sautee and crumble the chicken sausage, breaking it apart with a spatula until it has browned.
Separately sauté mushrooms so that they release some moisture, season with garlic powder, pepper, and dry oregano.
Separately sauté frozen spinach until most of the moisture has evaporated out. While cooking the spinach add fresh minced garlic and pepper to season.
Grate your cheese. *note
Roll out one of your pizza doughs on a floured surface. Set it in your cake pan and get as much air out from underneath the dough as possible. There should be dough hanging over the side.
In order, layer sausage, spinach, cheese, mushrooms, basil, cheese.
Then roll out your second dough, and lay it on top trying and remove as much air from the inside as possible.
Pinch the top dough and bottom dough together. Then you can make an X on the top with a knife to allow air/steam out while baking.
Roll your rolling pin across the top of the pan, this should help you remove the excess dough. I balled up my excess dough and put it back in the bag- it's in the freezer for future use!
Let it rest before removing from the pan. I find the best method is to flip it out onto a plate, then flip it back right-side-up to another.
Notes
* If you use part skim mozzarella, buy it as fresh as possible. It always makes a huge difference. Pre-grated cheese usually has a coating of corn starch which dries out the cheese, and when you are using a product with less fat, you want all the natural moisture possible.
Recipe Righter https://www.reciperighter.com/