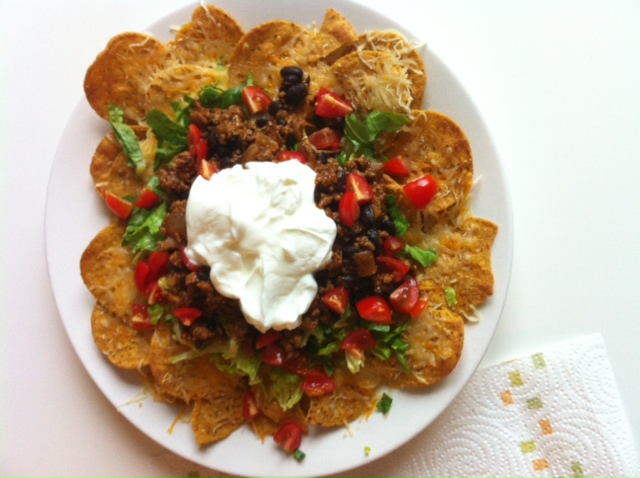 This recipe was inspired by leftovers and our love for nachos! We had tacos previously and I needed to use extra ingredients. Lucky for us, we really love nachos!
Sweet potato tortilla chips- I found mine at Trader Joes
Mexican cheese mixture
Rewarmed taco meat (turkey, onion, beans, seasonings, water)
Chopped romaine
Chopped cherry tomatoes
Fat-free Greek yogurt
On an oven safe dish layer sweet potato chips so they are slightly overlapping, add desired amount of cheese, make 1 more layer of chips and layer with cheese again. Place your plate on a cookie sheet and place the nachos under your broiler on low (if it has a low setting) until the cheese is just melted.
Layer on your reheated taco meat, chopped romaine, tomatoes, and give it a good ole' heaping spoon of fat free plain Greek yogurt.
I didn't buy into the whole using Greek yogurt in place of sour cream until I was desperate for sour cream one night and I topped off a recipe with some. I'm so mad I didn't get on the band wagon sooner! It tasted the exact same- but is much better for me. Even my man agreed.