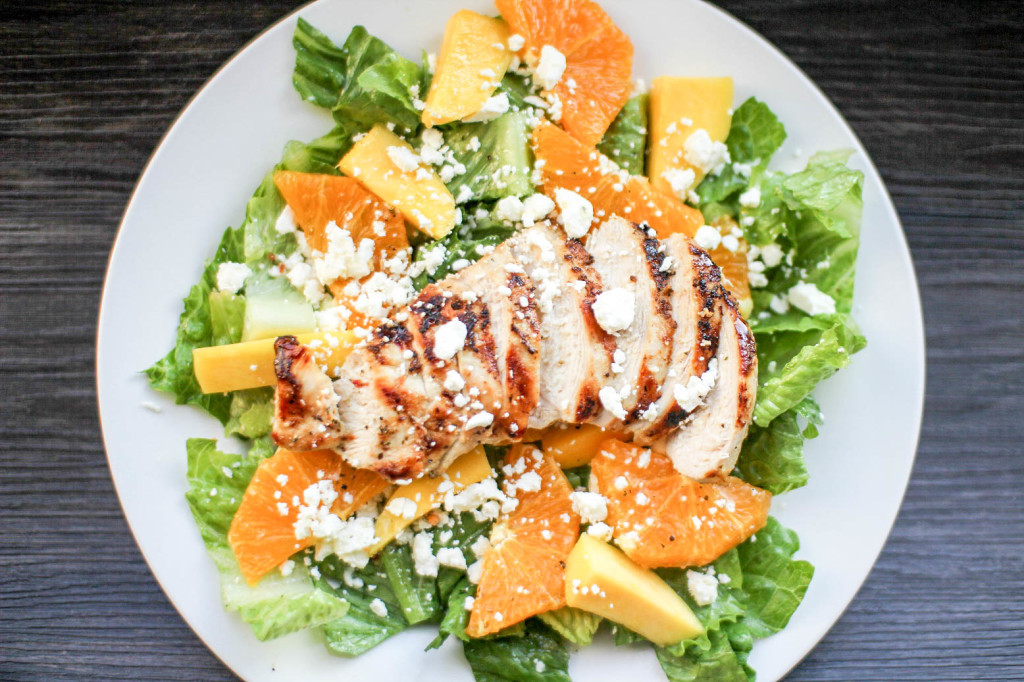 This sunny salad takes the B-O-R-I-N-G out of salad. The flavor from the citrus mixed with the mango, and the texture from the orange, and saltiness from the feta! Nom, nom, nom!! It is super simple to throw together.
The chicken I use on this salad is made in my home almost weekly. If I'm grilling chicken (on my wanna-be grill grill pan) it always starts out the same way. Defrosted, trimmed, and marinaded. The marinade always includes olive oil, vinegar (usually apple cider), then whatever spices/flavors I decide. I've been using "21 Seasoning Salute" from Trader Joes lately. It's got just about everything in it and it's delicious.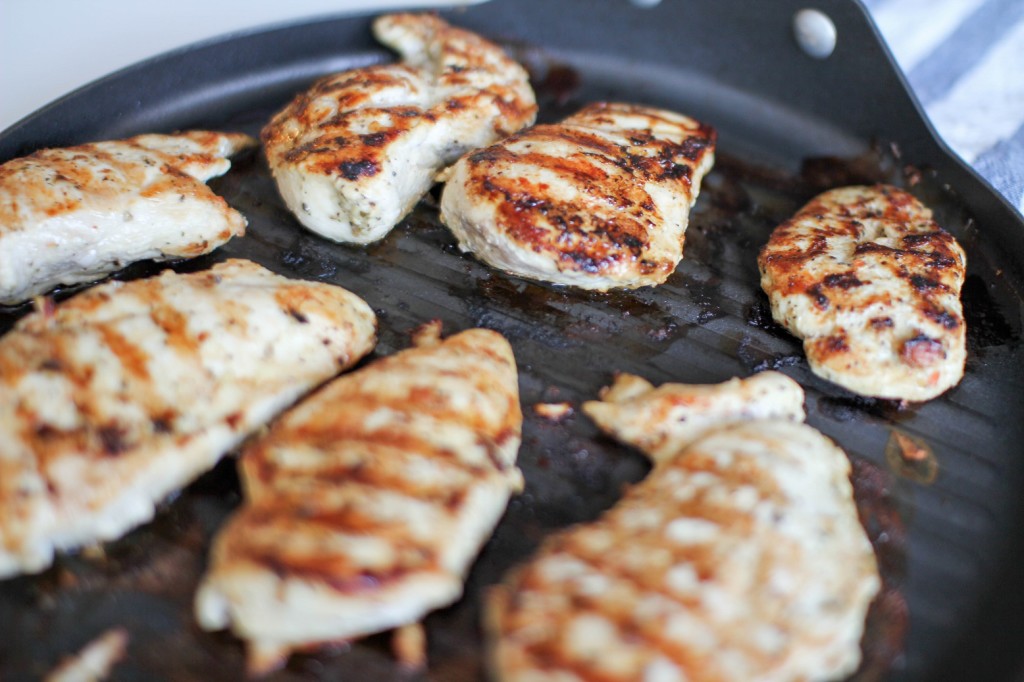 I use a grill pan because to tell you the truth I'm scared of fire! You can ask any lab partner I ever had- intro to chem, chem 1, chem 2, organic chem. Those darn Bunsen burners, I never did trust them! Let's just say I did not enjoy my lab experiences in school. Wait, that is not completely true. I did get to take an "experimental foods lab." Basically we cooked a bunch of food different ways (learning the chemistry of it) and got to eat. Now that is a lab I am on board with!
Anyway back to the chicken. My grill pan gets the job done! My favorite pan, worth every penny.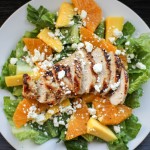 Sunny Salad
2015-05-26 19:43:25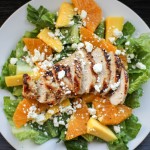 Serves 2
A delicious bright summer salad.
Ingredients
1 head of Romaine lettuce
Prepared chicken breast (see below)
1 orange
½ mango
¼ cup feta
Juice of 1 lemon
4 TBS Olive oil
½ TBS 21 seasoning salute
1 tsp sugar
Instructions
Prepare romaine lettuce by chopping and cleaning.
Prepare oranges by cutting off top and bottom, carefully slice down the sides of the orange to remove all peel and pith, then turn it on its side and make slices and half the slices.
Prepare your mango by peeling, cutting off bottom so that it can stand straight on the flat bottom, cut down the flatish sides, cut down the narrow edges to get the rest of the fruit, now make slices lengthwise and cut in half.
Prepare dressing by combining lemon juice, olive oil, 21 season salute (Trader Joes), and sugar.
Dress the romaine reserving some dressing for the top of the salad.
Top the romaine with chicken, mango, oranges, feta, and the rest of the dressing.
Notes
If you don't have 21 season salute Mrs. Dash is probably pretty similar.
Recipe Righter https://www.reciperighter.com/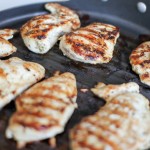 Chicken 21
2015-05-26 19:46:51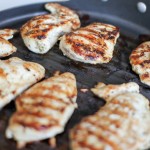 Serves 6
Great grilled chicken
Ingredients
6 Boneless skinless chicken breasts
4-5 TBS Olive oil
1-2 TBS Vinegar
21 seasoning salute to your preference
Pepper to your preference
Instructions
Place all ingredients in a zip top bag.
Shake/combine the ingredients so that all the chicken is coated.
Place on a plate and leave in the fridge for 30 minutes up to 1 day.
Once ready to cook, prepare grill pan so that it is HOT and preheat oven to 350 degrees.
Grill chicken for 5 minutes on both sides then place it in the oven for an additional 10-15 minutes depending on thickness of chicken breasts.
Take it out of the oven and let it rest.
Cut at an angle, serve.
Recipe Righter https://www.reciperighter.com/